2012 Gti 2 door, Autobahn package, and manual transmission.
Location: Houston, TX
Current miles: 101328
Asking price: $12990
Price negotiable. Wire transfer, local cashier's check, or local money order only.
The reason for selling is I have a new born and need a bigger and four door car. Highway miles, since working remotely 4 years ago I drive less than 2.5k miles/year.
Great first car!
I baby this car. It has 0 issues and I take pride in that.
All scheduled maintenance, including regular oil changes - I do all the oil changes myself with Castrol 5w40 as I don't trust anyone with my car -, mechanical inspection report from
Garagisti
. I also do keep a detailed maintenance log on Carfax.
Pros
:
- Car has always been garage kept
- All weather mats floor and
- Wheel locks
- High tread spare tire
- Less than 10k miles Michelin pilot sport 4s tires
- Dynaudio sound system
- Built in navigation and cd player
- Sirius XM radio
- Xenon headlights that dynamical points in the direction of the steering.
- Upgraded stage 2 clutch. If you dont past stage 1 tune it should never wear out.
Note
:
- There are rock chips, see pics
- There's a big paint scratch by the rear VW logo. I wash and wax the car every month so no rust or further damage.
- There's a dent on the driver side door edge. It was like that when I purchased the car.
Preventative maintenance:
1) Latest maintenance inspection, antifreeze/coolant flush done at 100 002 miles at
Garagisti
2) Carbon cleaning done alone with all fuel injectors replaced at 84120 miles
3) Spark plugs and coils replaced at 50k miles
4) Clutch and brake fluid flush 91120 miles
Upgrades:
1) Headliner replaced and added extra heat insulation while they were in there at 99100 miles
2) Clutch: Upgraded to South Bend stage 2 Endurance clutch kit. Installed at 91614 miles at
Brink MotorSports
3) Michelin pilot sport 4s tires installed at 91333miles
4) APR stage1+2 carbon fiber intake(See photo) installed 90853 miles. I have stock airbox too.
5) APR stage 1 tuned(can be removed) at 79586 miles at
Brink MotorSports
6) Ceramic tint on all 4 windows, sun/moon roof, rear and front windshield around 70k miles
Let me know if you have any more information!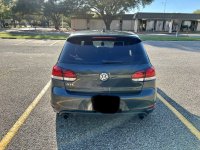 Last edited: