My review
Product: Shuenk K03+ for Transversal Mk5 & Mk6
Price: $849 with Dv+ and boost pipe
Part number: K03+
Reason:
My project GTI has been Full Bolt On (FBO) stg 2 for four years and has gone through all the different tuners and multiple different bolt on parts. Once your mk6 is stg2 everything else is only small improvements. So over the last year my turbo developed that annoying wastegate rattle on decell. Car was running its best times but the noise was driving me insane. So I started to look at all the aftermarket turbo options. I also outlined how much I wanted to invest on this next step. I did not want to go BT because the GTI is paid off and I didn't want to drop 3-5k in a car only worth 10k and possibly make it less reliable. So my next option is the K04 and I looked at a couple companies but all their kits were 2-3k for something I could probably put together myself. Then looked at just replacing the IHI turbo with another IHI those are all over a 1k with no gain in overall performance. So during my search I had emailed Shuenk and asked about their turbos and they mentioned that they had a K03+ hybrid turbo ready for testing that I could beta for a reduced cost. This was a win for this project as wanting to keep cost within reason.
Benefits:
I am a fan of the K03 as I used and modified the K03 back when I had a stg2+ FSI Audi A4 and I knew the K03 had better flow than what I was getting out of the IHI turbo. This better flow helps because our stg2 tunes already request more boost than our stock IHI can ever make, even on their best day (see datalog pictures). This K03+ turbo is designed to be a bolt on replacement for your IHI without needing to pay for a different tune or a bunch of supporting mods. As you can see from the data log this turbo can flow way more than the stg2 needs so it reaches and surpasses the stg2 request and holds that boost power to red line. There are a ton of us that never go beyond stg2 because that requires new tunes, and other supporting mods in order to get there.

Includes:
K03+ turbocharger
Silicone adapter
Optional:
Boost pipe
DV+
Compairison:
You can see in the side by side pictures the K03+ has a bigger compressor and has a better flowing exhaust manifold with larger turbine.
(Click on the thumbnails)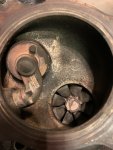 Install:
The install is a moderate/high level install. Simple tools, and like most, I have done all my installs but this was one of the biggest. As most know the turbo is in a crap location and can have some difficult bolt locations. Just like all installs make sure you spray everything down with penetrant lube prior to removal. There is a great write up by Gamble on golfmk6 that will give you all the basic step by steps for the install as the K04 and K03+ are the same body turbo. For this install I spread out over a weekend and 7 hrs a day give or take some breaks. Taking my time of course. As this was a beta turbo the compressor did need to be clocked because I did not like where the compressor outlet sat in relation to the block. This required loosening the five bolts on the compressor side and slowly moving the housing the give me better clearance. There is a limit to adjust-ability because you do not want to move it so much that the wastegate arm changes its preload. With that done it was just a bolt everything back together. First start up and zero leaks! I felt super accomplished because I was nervous going into the install.
Dyno:
As with all my reviews I need proof. These guys that say their BS intake gave them a ton of power are why I dyno my car before and after every mod. A dyno is a great tool to see if your car has gained or lost power. If you just strap your car down and do one run and nothing else then you really are not using a dyno for its purpose.
AWD mustang dyno with correction factor on a cold day so it does read low but this review is to show gains not max numbers.
BASELINE
– My GTI has IE intake, boost pipes, IC, DP, Exhaust, IE stg2 tune
Feb 12, 2020 10am 41 degrees – graph best of the three runs
AFTER
– Same IE intake, boost pipes, IC, DP, Exhaust, IE stg2 tune now with the K03+
Feb 26, 2020 10am 46 degrees – graph best of the three runs
Dyno Video
Gain of 36 WHP and 26 WTQ!!
Datalog:
Also I datalog all my dyno runs so I can review each run to make sure there were no weird issues during the runs. The datalogs shown here were those actual runs. This K03+ has a lot of potential because on the stg2 tune the wastegate is only at 59% of load! So there will be more to come on finding the limits of this turbo.
Daily Driving:
As you can see from the dyno's this added a solid amount of HP and TQ across the entire power band. The car feels great with smooth power and it pulls. Honestly it feels like when I use to NOS a car. Because the power band does not change it just adds an even amount of power across the full rev band!
Conclusion:
With an aging MK6 community we are all going to need to change our turbo eventually. The stock IHI turbo has its limits and add miles and normal wear and you are not even close to what your current stg2 MK6 can actually produce. This gave me a solid gain across the entire rev band without dropping a ton of money. So it is a big win for me with my full bolt on maxed out stg2. And there is potential to get more out of this turbo. We as a group spend more than this on most exhaust / DP systems. Also got rid of the FN wastegate rattle.
Website:
Where to buy them
https://shuenk.com/
Contact
sales@shuenk.com
KO3+
Last edited: