***Traded the car in on October 31st 2016, enjoy the journal thread of my mk6, loved this car, was just sick of all of the issues in the end.***
Figured I'd edit this and add a recent photo to the top to keep your attention..
Enjoy reading through and looking at all the photos~
—.—.—.—.—.—.—.—.—.—.—.—.—.—.—.—.—.—.—.—
So when I was a sophomore in high school (class of 2011) my friend had a black mk4 GTI.. It was ever since I laid eyes on his car that I knew I'd someday own one of my own.
(Photo from his Facebook)
I was officially handed my mom's silver 2003 Honda Accord v6 keys when I turned 17 (I'm now 20).. of course everyone enjoys their first car, no complaints on it really, it just wasn't anything special. 6 cd changer didn't work, horrible on gas, etc.
Funnily enough, I don't have any photos of it. *EDIT: I found one photo of it on my Photobucket that I took after I did the tints on the tails*
I was, for a short time, in love with the mkv looks, lurked the forum hard, etc. Except, the people on that site are straight up ass holes.
Going through my Instagram feed to really remember everything thus far;
8/10/2012 I, made the mistake some might call it, went to my local VW dealer and sat in the mk6 GTI they had in the show room.. The people at the dealer were total assholes to me since I'm young (I look way younger than I am) so they lost my business that day, at least I got to sit in a GTI!
Girlfriend said the look on my face was priceless, but now I had to figure out how to convince my dad to let me trade in my fully paid off Honda and get the GTI.
Tons of research and forum lurking (been doing that since before I made my first post here).
8/15/2012 Five days after sitting in the GTI, I was taking the Honda through a local drive thru wash (free on grand opening day; the GTI will never have to suffer this).
*Probably the third wash the car had while I owned it.*
Anyways, it was a good enough wash since this is where it was headed:
I know, most of you are so anti-CarMax, and before this entire experience I would be against you, but I would honestly rather just go back to the dealer if I could start over. So two days after taking the Honda in, I find a CSG GTI with DSG that is at another CarMax that has a free transfer, so I am able to convince my dad since all the other local GTIs for sale were manual and we didn't have any cars I could learn manual on.
8/17/2012
I was the "proud" owner of a 2010 GTI with 36,500 miles on it and we paid way too much.. but I got it, and I was so much happier than I was in my Honda.
Saddly.. less than a week later we had to take it back to CarMax because the rear main seal was busted and the car was leaking oil all over the driveway..
I got it back about a week later and decided to give it some tlc that the Honda never saw.
Of course, this being Florida around the summer time, it's going to rain at the thought of a clean car.
8/29/2012 I got rid of the CarMax decal.
9/3/2012 Was my first mod to the car. I got some red tail light tape and made the footwells red!
9/16/2012 A day short of a month into ownership... Someone decides to hit my car in the parking lot of the place that I work; no note, or anything.. I out of rage decided to call the police. Then my dad calls me and says it's not worth it since it's only paint damage, so I called back the pd and told them nevermind and I went home. :B
What really bummed me out that day was I had just spent $1400 at work on a new camera setup so I was super excited to go home and start using it. Anyways, that red paint was able to start rubbing off with a damp towel but I didn't really try to hard that night because it was already dark and hard to see. Kinda forgot about it for a little since the GTI sits so much lower than my old Honda.
9/18/2012 After a few visits to Gunther VW of FtLauderdale, and a bunch of miscommunication on their end, I was able to finally get my Monster mats! They discounted them to me for the long wait (I was going in for about 2 weeks) and confusion.
9/20/2012 Since we got my car used, which we found out was owned by a girl who moved away to college, she obviously never kept the little things clean.
My dad showed me some blackmagic (EDIT: Since I get so many comments/messages about this, "black magic" is a fucking joke because what he did worked like magic... wd40 and steel wool people) to get rid of the caked on crap stuck to the exhaust pipes.
10/3/2012 "Always so happy when I come out to my driveway now. (:" Somewhere in between I added some peel and cling tint to the side markers.. (that has since been off and on along with black plastidip)
10/6/2012 Brought me my EuroSwitch! and I was able to instal the repair wire the next day.
Pretty quite month for the most part.. however two days before me and my girlfriend's three year anniversary I had a minor set back..
10/23/2012
1.2 miles away from home. Lady turned into me when I had the right of way, luckily she actually had insurance. All of the side curtains went off, obviously the entire driver's side looks to be about totaled. A lot of you on here were claiming it a total loss.
http://golfmk6.com/forums/showthread.php?t=47914
10/25/2012 Regardless of the smashed car, my girlfriend and I had a great anniversary on the 25th. (:
10/26/2012 Then the next day, the GTI was on its way to Vera Cadillac to get the body work done.
And I was stuck with this 2013 Civic... Had 6 miles on it leaving the dealership..
I don't remember the exact number, but I gave the Civic back with well over 1,500 miles.. In the time I had it, I got addicted to Starbucks and was going almost daily to where I became friends with the baristas and now get free stuff.
Too bad they couldn't give me what was in the parking lot one day:
It didn't have LED tails (I didn't know those weren't on US spec Rs until after) so I was kinda upset because I wanted to see them in person. ):
A little over a month of driving the Civic, I got my car back.
11/30/2012
Yeah, that meant I drove that Civic to get blops2! FAK! haha..
Vera did an awesome job though, made my Detroits look brand new. :3
12/6/2012
After the premier of the Girl/Chocolate video Pretty Sweet at the Zumiez in Sawgrass, I couldn't resist putting this sticker on.. It soon came off though lol..
12/17/2012 Brought my tints.
12/18/2012 "Not by choice, getting my baby detailed.. They're not even done yet and I already decided I will be the only one to do it from now on." LOL
12/25/2012~ Not 100% sure on the installation date but my girlfriend got me deAutoKey interior LEDs and RDash Plate lights for christmas!
Here's some more photos of the interior kit along with red footwell LEDs (their old models, newer stuff is a lot better)
http://golfmk6.com/forums/showthread.php?t=51426
deAutoKey wasn't feeling the RDash lights so they sent me out some of their Plate lights, SOOOOO much better than the RDash!
http://golfmk6.com/forums/showthread.php?t=51674
1/4/2013 We found a bunch of little pits on the roof of my car, the ideas for a fix starting building..
1/8/2013 Got these for $5 from PepBoys, too bad they are blue and not white.. haha (deAutoKey fixed that as well~)
1/10/2013 Had the 40k DSG Service done. A little under a grand.
1/17/2013 A spider was really into the bright and crisp white light given off by the deAutoKey LEDs!
1/22/2013 Remember those ideas I mentioned to fix the roof pits? Yeah... rattle can plastidip...
The problem with the rattle cans was it was hard to get an even spray on the roof. So it was super thin in spots and a weird rough texture in others.
1/29/2013 Was a family day. We bonded while removing the plastidip.. Took LITERALLY all day to get it off. My dad, mom, girlfriend, and I; peeling dip from about 1pm until about 10..
1/30/2013 I have nothing against plastidip, just don't use rattle cans on large surfaces! I redid the base of the gear select with glossifier*since the original stuff was peeling (need to redo in matte black vinyl).
2/2/2013 Was a Euro as FUCK day! Thanks Paul!! First car event I've gone to (had to drive across Florida for it!) I sure as hell had a great time though! (:
Here's the photos I took that day:
http://golfmk6.com/forums/showthread.php?t=53775
My dad was impressed with all the VW's and was really digging the Air setups, especially the ones presented by EuroSpec!
2/5/2013 He told me to make an order for a birthday present. (;
I also recleaned the exhaust pipes with his blackmagic lol.
2/16/2013~~ Birthday! Turned 20, and did some minor things. Got some photos up on the only hill in the area.
Also installed the deAutoKey plaid inserts. :3 I definitely love this addition!
2/23/2013 Had another minor setback... I broke my windshield trying to re attach my rear view mirror... If you saw me in person you wouldn't believe me because I'm so skinny. :B
2/26/2013 It wasn't OEM but SafeLite at least did a great job at giving me a new windshield!
Also the same day I got the present my girlfriend had ordered me for my birthday! I swear, she's the best. (:
3/7/2013
You guys guessed it lol, got my air today!
Teaser shot since I need to wash the car now; but just incase anyone asks, no I did not notch it, no I don't have rolled fenders, yes I am a complete noob.
Today I also took some comparison test photos for deAutoKey LED Footwell lights!
http://golfmk6.com/forums/showthread...30#post1087830
3/9/2013
Couldn't wait to wash her to add this much needed sticker~ #airbyeurospec
3/12/2013
Created and adjusted my wood panels used to hold my trunk together for my air, also mounted the compressor sideways. :3
3/13/2013
Got a new cover for my driver side fog light hole, now I have two new ones, also got the under body plastic that covers the break lines because my car didn't come with it apparently (bought it used). Got both for $110 thanks to EuroSpec!
3/19/2013
Washed the car yesterday and decided to go take some new shots. First photos I've taken since the bag instal. Enjoy.
For the record, Canon 60D, 50mm 1.8 with circular polarizer.
3/20/2013
Got my creaky rear drivers wheel fixed today from EuroSpec, Alex is amazing.(: he also took the screws out of my front fenders at the same time!
3/21/2013
Had a really good day today! Found out my neighbor across the street has a lift in his back garage so I took advantage and was able to get the bottom plastic protector on that I had to order since my car didn't come with ti.
Also made a small false floor to hold me over until I can actually fabricate something better.
At least now I can put my skateboards back in the trunk and not have to worry about ripping up my seats!!
3/23/2013
Got life time of alignments at the local TiresPlus for $160. Got a $20 discount thanks to the guys at EuroSpec.
3/26/2013
Added a custom golfmk6 decal.
4/9/2013
Gave my car some good tlc today. Nice and shiny.
Also got the green light for some APR action. Appointment will be made for next week.
4/12/2013
Posting a little late but I had a mini meet/shoot with mcomora. Photos were by him, I tried to get too fancy and my shots came out too dark, oh well.
http://golfmk6.com/forums/showthread.php?t=57864
My favorites: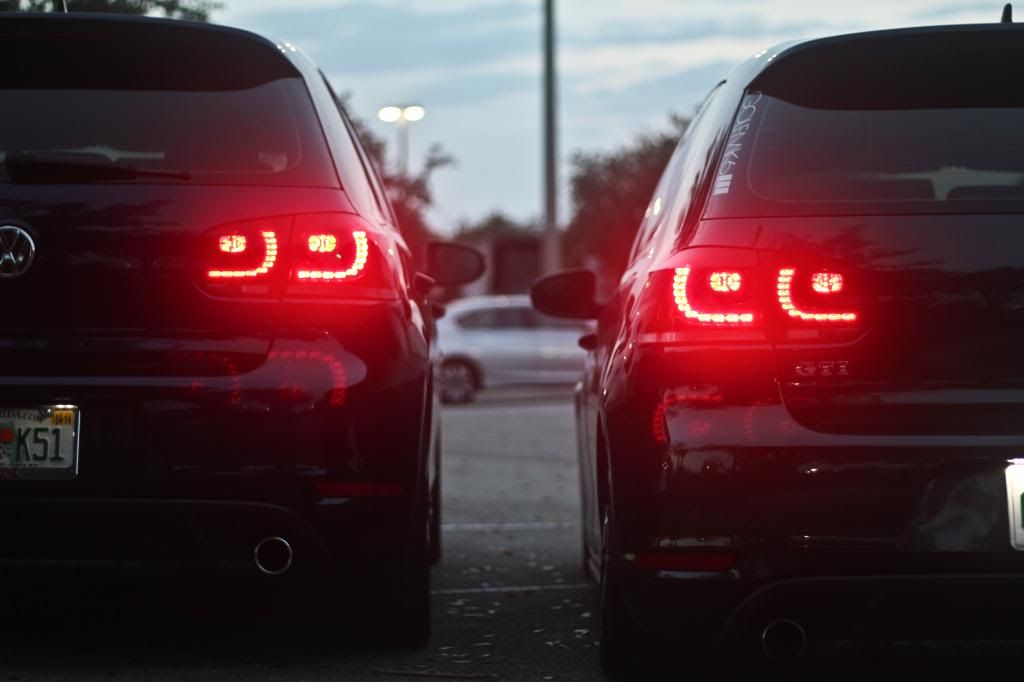 4/16/2013
Just made my appointment at USP motorsports to go Stage 1! Hopefully I'll get my sidemarkers back tomorrow aswell from a local guy who is painting them. He said he has to redo one of them because we had shitty weather last night and it got a little messed up. Oh well.
4/17/2013
It isn't 100% because the guy paints BMW's but it's close enough for my liking!
4/19/2013
Washed it, had a meet up with some forum members (mk6_ivan's white GTI, mcomora's blue GTI, my CSG, brandongolfr's white R), took some photos, then went to a local meet.
4/20/2013
I filled it up, only 4 days after the last fill up, stage 1 done two days ago definitely influenced some heavy accelerating lol.
4/25/2013
Some work to get her to sit even when aired out. (;
5/7/2013
Been planning on washing it for the past three days, but I've just been too tired and chose to sleep in instead~ lol But I did make a "bandaid" to cover up the peeling paint.. :/
5/10/2013
Much needed wash today, seems like every time I wash it sheet drying it becomes easier and easier, soooo happy with the results from today, just wish I had enough time to clay/wax/photograph it lol! Sadly though, the paint on the hood is peeling even more, took the "bandaid" off after two days because it rained lol.
5/14/2013
Added my BagRiders plate frame for the hell of it and finished my little video for user Vancity2Constantinople lol.. Also got some vcds stuff done at a local meet.
Here's the video for anyone that was curious~
4/15/2013
Got my false floor back today from the guy that was doing the carpeting. Came out really nice. (:
5/23/2013
Some delays on new product but, had a fun meet today, all photos here:
http://golfmk6.com/forums/showthread.php?p=1217763
I must have some weird obsession with tree photos
by
Kyle Justin Anderson
, on Flickr
Starting line up
by
Kyle Justin Anderson
, on Flickr
5/24/2013
Replacement minifold and controller from airlift arrived today. Hopefully this will fix my compressor problem. :3 Gonna wait until Monday to do the install though.
5/27/2013
Installed new v2 controller and new manifold but I'm still having some problems, might try to re run the calibrations to see if that changes anything. Also installed some brighter LEDs from deAutoKey, they are the white 6 waffer LEDs they sell for the footwells~
iPhone photos from today:
New controller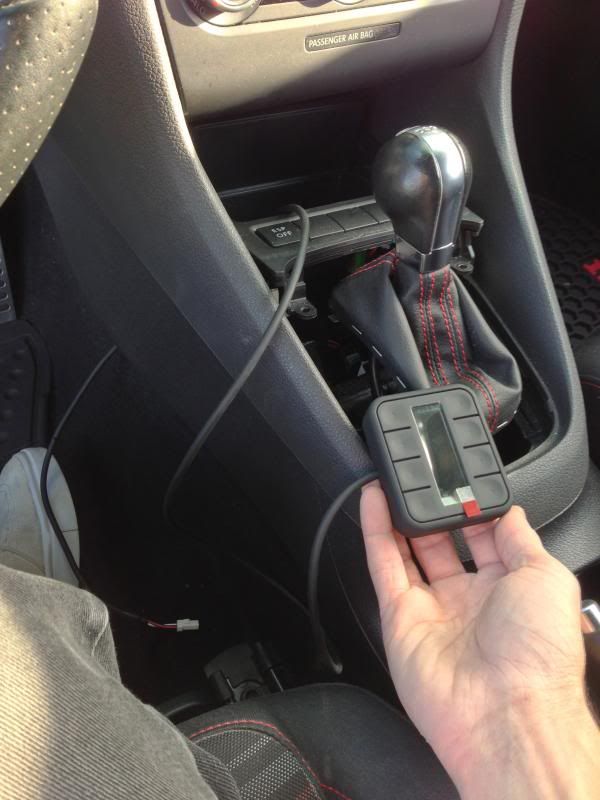 That cheated low. *during calibration*
Face down, Ass up! *during calibration*
Pink footwells, because fuck you, that's why.
Oh yeah, and the air out to fill up shot from today~ Don't wanna run out of gas on the way to USP tomorrow.
5/30/2013
I guess it isn't directly to my mk6 but I'm still excited to have these! Now waiting for my Blue Coral to get here. :3
EDIT: It arrived shortly after. :3
6/3/2013
Washed it, cleaned the tail pipes, and had to clay the hatch/rearbumper to get off the shit load of dirt/grass/rocks that got covered on my car yesterday from the "landscapers" that take care of the bestbuy I work at. After washing it I drove around for a bit trying to find some interesting places to take photos at but gave up and drove to a dairy queen where I found a $20 on the floor! Settled for this iPhone picture that I took about an hour ago lol..
Also shipped back the "new" manifold that airlift sent me, put the old one back in a few days ago and have only had the compressor problem.. Rather deal with that instead of my car missing presets and airing out randomly while driving (happend 4 times in 2 days with the newer manifold).
6/4/2013
Rainy Day Photos with mcomora.
Blue vs Grey
by
Kyle Justin Anderson
, on Flickr
Fogs
by
Kyle Justin Anderson
, on Flickr
Tails
by
Kyle Justin Anderson
, on Flickr
6/17/2013
Washed my car today finally after all the rain we've been having. :3
I plan on testing out a new flashlight for light painting later on tonight in my driveway so there might be some photos later on~
As promised~ I think it came out good for my first time light painting. :3 Created with four exposures, crit please!
Lightpainting test
by
Kyle Justin Anderson
, on Flickr
5/18/2013
Took some photos of my car today:
IMG_3756
by
Kyle Justin Anderson
, on Flickr
As well as some of my buddy's girlfriend's tc (she just got it as her first car):
IMG_3752
by
Kyle Justin Anderson
, on Flickr
The rest of the photos are here:
http://www.flickr.com/photos/spiker3...7634199777128/
I plan on keeping it updated regularly even if it's just for my own enjoyment (kinda like my crash thread).
UPDATE: golfmk6 apparently doesn't let you update threads past a certain character count so just check from page 8 and on for newer stuff!
http://www.golfmk6.com/forums/showth...t=55645&page=8