This is my review/impressions on the
CTS 3" Full Turbo-Back Exhaus
t for the VW MKVI. Quality, fitment, Exhaust note and all around great looking exhaust.
Like many, going with an exhaust is something you want to make sure you get right. You don't want to just jump into it. There are so many companies in the market that cater to the MKVI. I'm not going to name them be we know the popular ones.
Some tuning companies have a louder sounding exhaust and some are on the quieter side. I personally wanted a nice tame sound while driving and when I wanted to get on it, it would be known. So my search began for my ideal setup. I searched and searched.
At first I was just set on getting a downpipe and pairing that with my OEM rear section. I am older now and I don't need to be straight piped and getting pulled over all the time… "Ain't nobody got time for that!" I have been around a lot of different exhausts. Some TBE's with the same DP and Cat-backs made by the company and some that have been mixed and matched. Others are resonated, non-resonated, catted or cat-less etc. Where the hell do you begin!? The TBE's that I did like were $$$$. I'm not going to get on, "you get what you pay for," but I cannot see myself spending close to $1600+ on a TBE.
These were the main things I looked into when getting my ideal exhaust:
1. Quality
2. Sound
3. PRICE
The CTS exhaust hit that right on the nose for me. The exhaust note was very tame and had a nice rumble when you get on it, which I like. The price and quality was very good as well.
-So I placed the order and working with Clay at CTS was a breeze. He's definitely a car guy. He wasn't just some sales guy that you talk to. He was knowledgeable and an all-around cool dude. Made my decision with the CTS TBE much easier!
Ok! Now to the good stuff!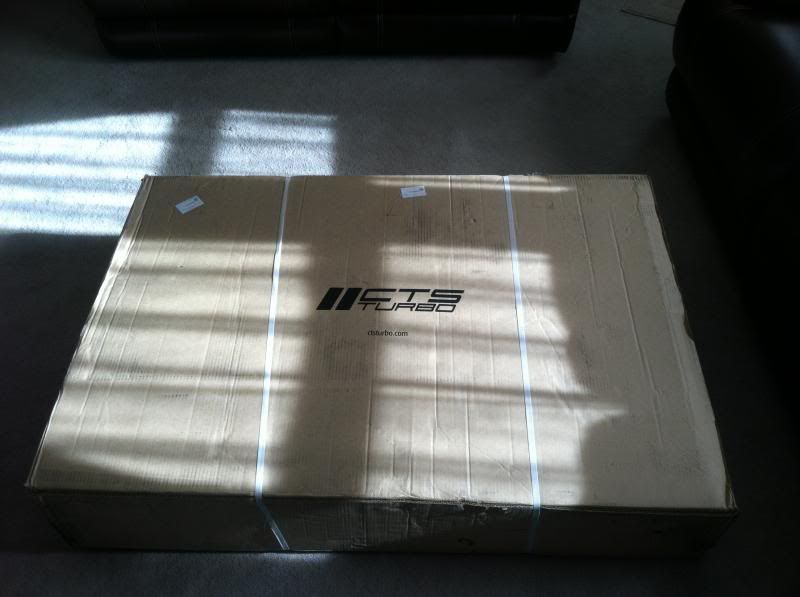 Un-boxing.
Specs:
- True 3" Stainless steel turbo-back exhaust
- 100% Tig Welded
- Water jet cut flanges
- CNC mandrel bent stainless steel piping
- Polished stainless steel exhaust tubing
- 3" exhaust tips
-the exhaust is slip fit so you don't need any gaskets, the clamps used are Stainless Steel Torca Acuseal, they're the best clamps out there by far.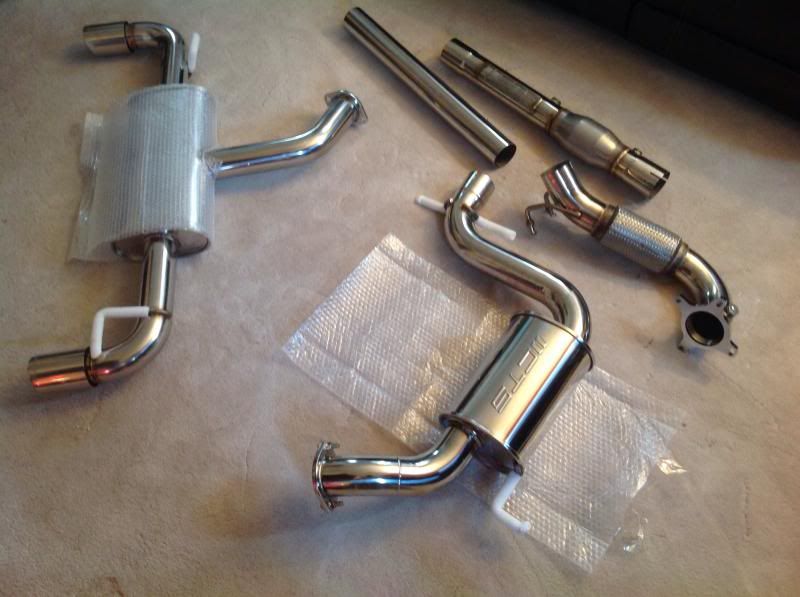 The Downpipe was the first thing that caught my eye. The welds are just straight sexy. So clean and perfect. I'm a big fan of welds. They honestly look like oatmeal oats stacked on top of each other haha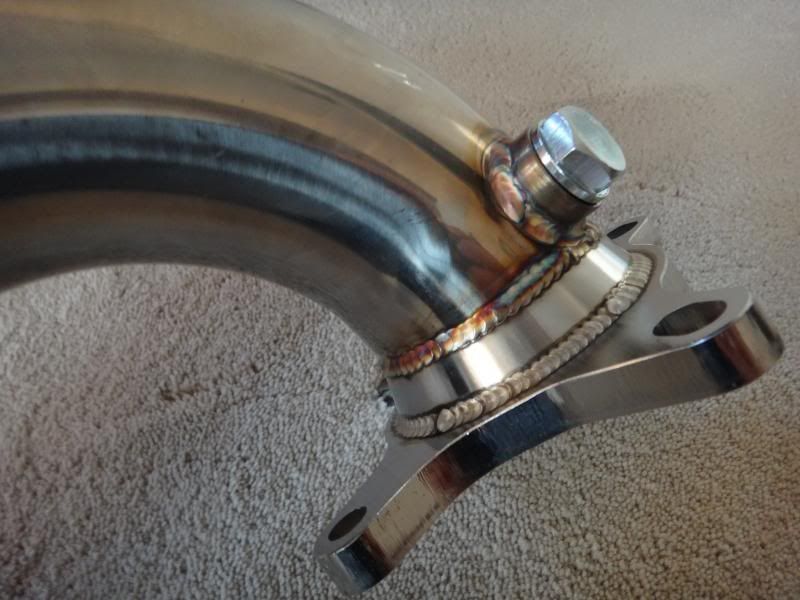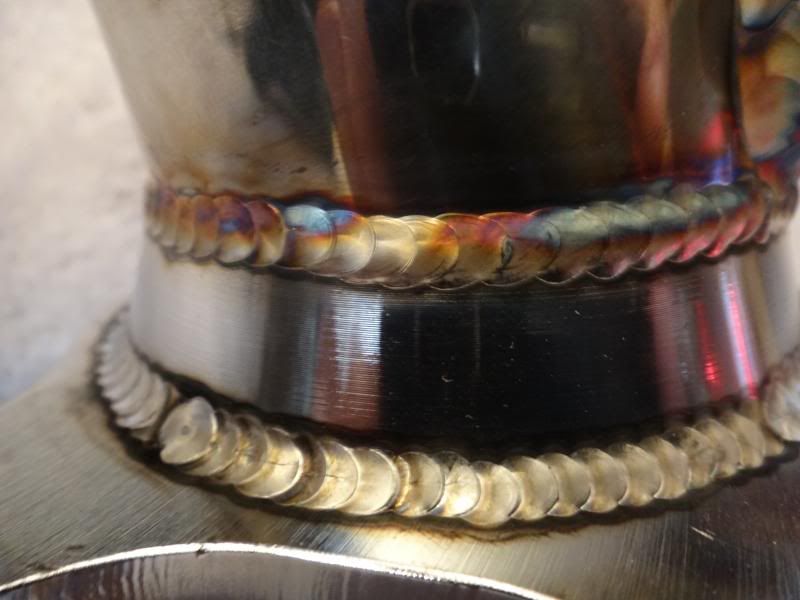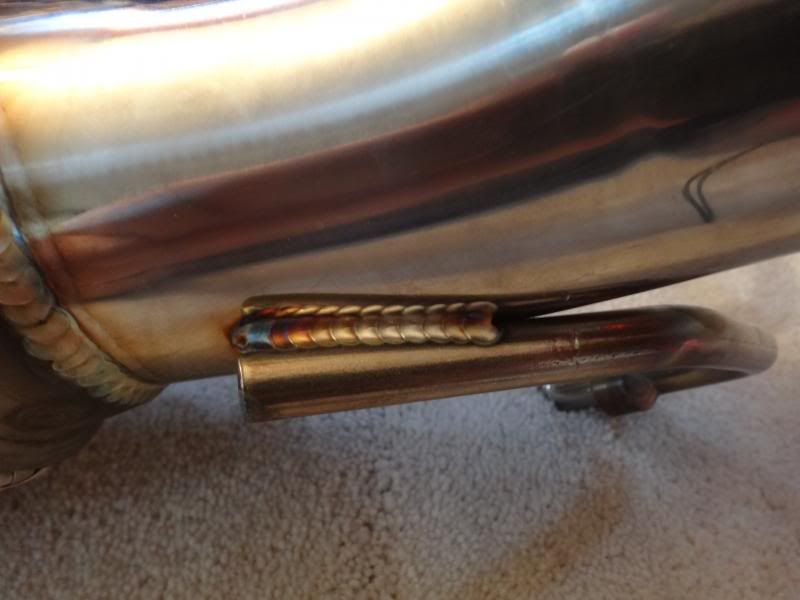 Next was the mid pipe. I opted for a Catted setup which CTS utilizes a 200 cell. (this also will help with the exhaust tone.)
Also you notice a nice CTS plate Tig welded on the mid pipe after the cat. I did not see this on their website, but was very happy because it is a nice touch.
So far so good!
Next up was the rear section of the cat-back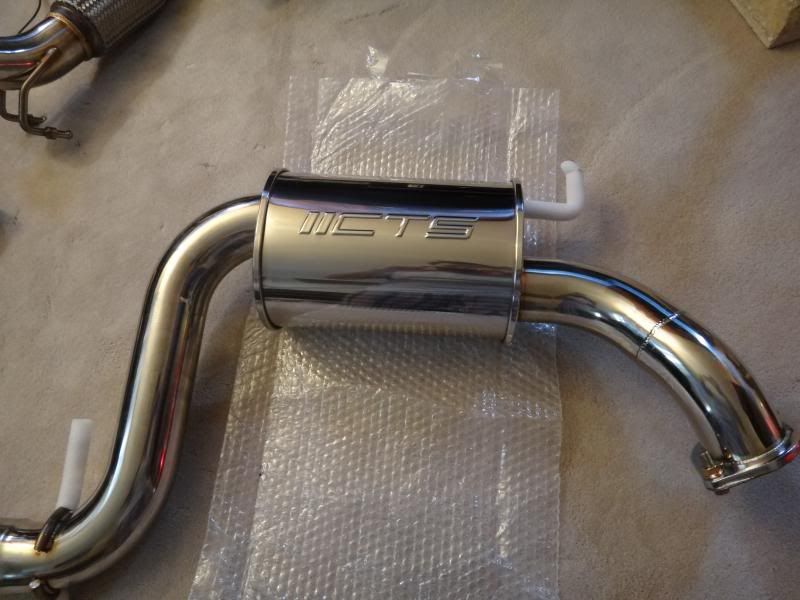 This exhaust was so nicely put together. The welds are so nice! The rear section muffler has their logo "CTS" stamped facing down.
Suitcase muffler section
Also they have their logo stamped in the center, subtle but a very clean looking exhaust. Simple, just what I wanted and expected.
Now for the install!
This install was pretty straight forward. Took me about 3 hours total. This included, getting car on jack stands and on ramps.
Side note: I used plac's Downpipe and Cat-back write up and videos to help.. I watched it like 30 times. Doing this install was cake with those tutorials. Also all my friends that have tackled this job before. Thanks for your input guys!
Since my car only has 8800 miles. The turbo flange bolts came off easily. I also sprayed some PB blaster just in case. For the most part, the downpipe came off quick. SWEET!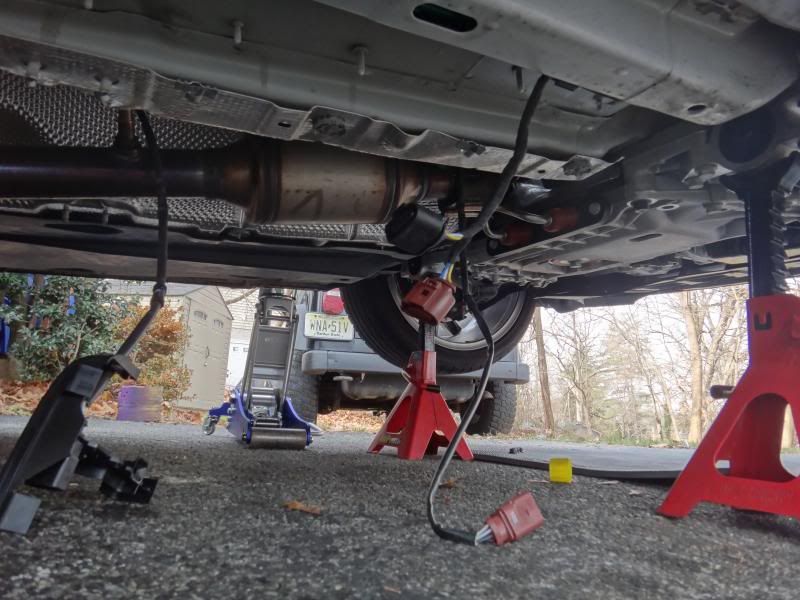 Here is a pic of the stock and CTS DP.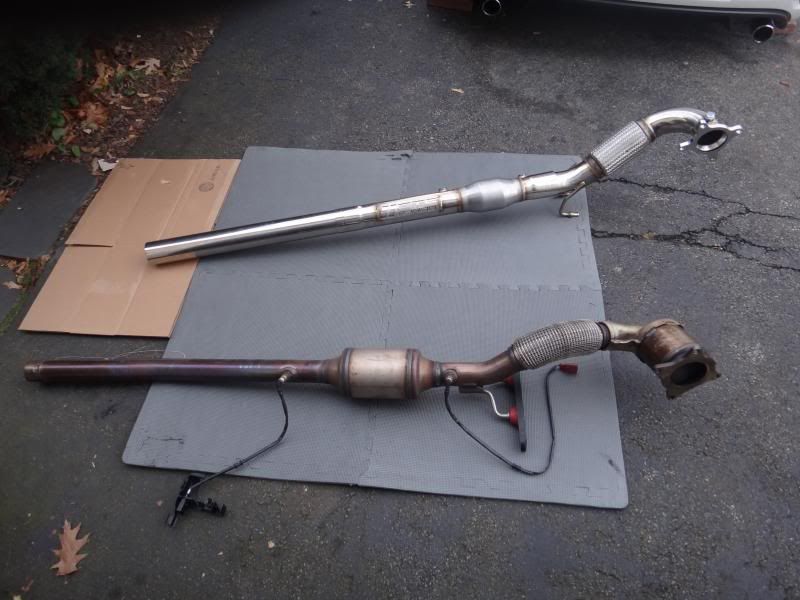 Pic of CTS DP ready for install
As you can see the hangers are very nice. They are similar to stock.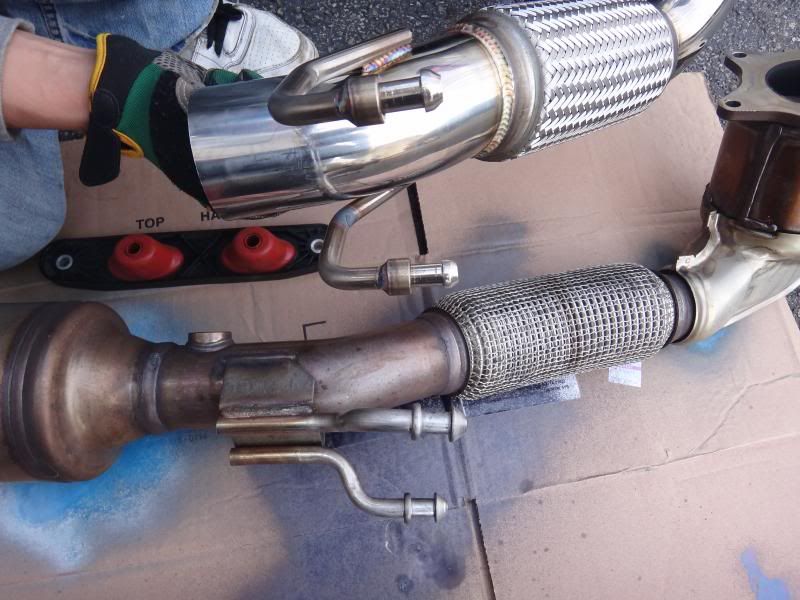 Here is just a quick test fit, installed new gasket from which came with my DP. It's OEM VW so no fitment problem there.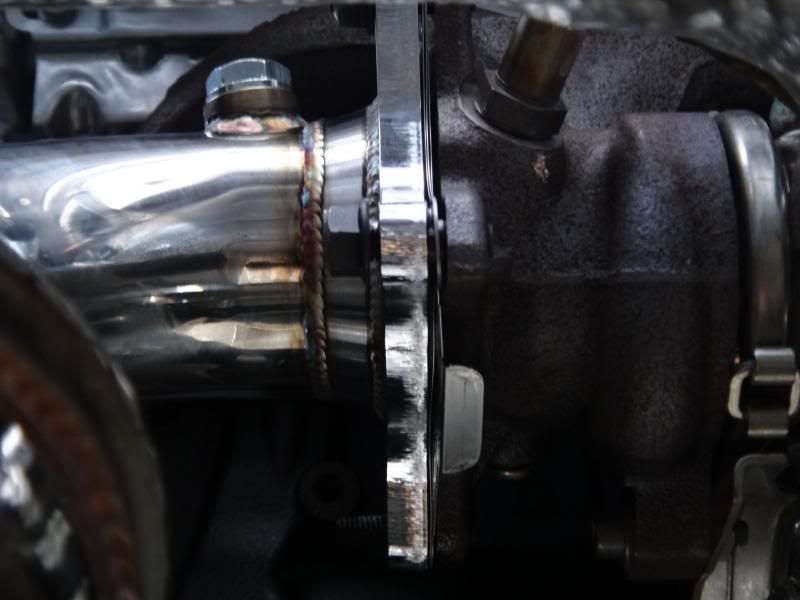 As you can see, the DP fits great.. the holes line up perfectly. It's not off at all.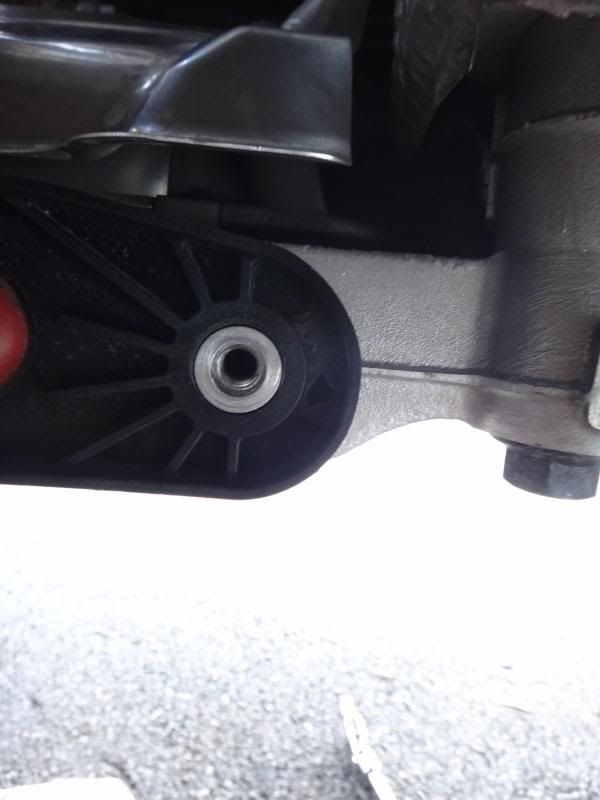 As you saw earlier, here is how the CTS plate will be facing when installed.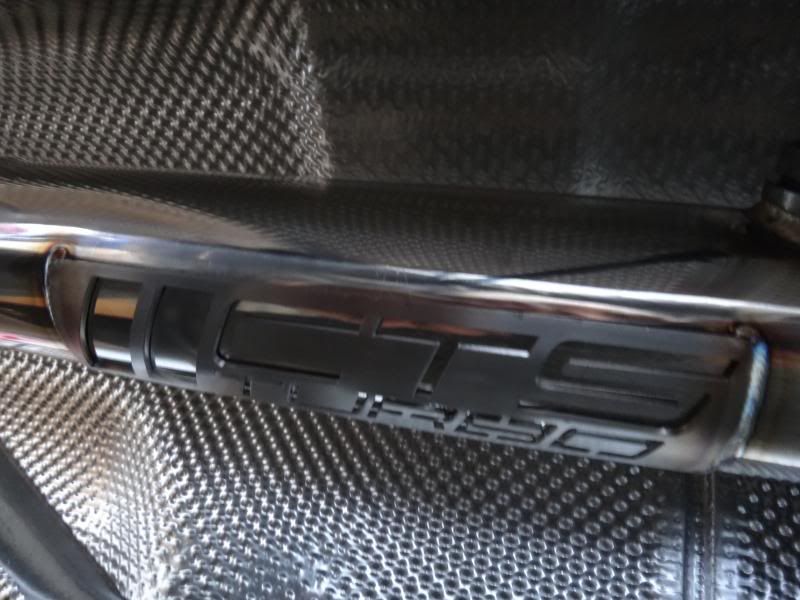 Here is the rear section installed. Again the CTS logo is facing down.
Suitcase is installed and bolted up. CTS logo is NICE!
Also the tips look great. They are 3" I just needed to do some minor adjusting here and there with the mounts. All is good now.
First impressions
:
Started up the car. It honestly sounded like stock. Haha. I was kinda bummed and was like.. "that's it?" I wanted some sound improvement from stock! But we all know the exhaust has to break in.
My specs, Stage 1, Intake, Front Mount Intercooler and I can tell right off the bat there is a noticeable TQ gain.
Now for a test drive! From a stop and go I can definitely feel an acceleration improvement. Also the turbo is louder. I can hear my exhaust now because of the DP freeing up more air and I'm LOVING it! Now to get on the highway. Acceleration on the on ramp is euphoric! The exhaust notes are sweet, I shift to 3rd and it gets better. Car is loving it. Shift to 4th and I'm around 4.5 RPMs and letting my revs slow the engine down. I soft shift to 5th and then go to 6th.. car is quiet. I'm just cruising around 65 mph. NO DRONE! It really does sound stock. Im very picky with things and OCD. So I am VERY pleased with my purchase at this point.
I went stage 2 this weekend and the exhaust did get somewhat louder. But WOW the power increase. The flash to stage 2 smoothed out the power across the RPMs. There is definitely more pull on top end.
I think it's a culmination of it breaking in and also stage 2. A lot of my buddies told me going stage 2 will wake up the exhaust note. It sounds just like I wanted. Tame when cruising and a nice roar when getting on it. There is no rasp or loud crackle. Bottom line a very Euro tuned exhaust note.
This exhaust is for the daily driver that doesn't want to break the bank and wants performance. Without having the typical loudness of an exhaust you have out in the market today. It looks great and not over baring like.. "hey look at me!" It truly is quiet and subtle.
Again I am happy with my purchase and quality is great.
If you have any questions on install or the CTS TBE itself, let me know I'll be glad to help!
Thanks for checking out my review.
Enjoy!
(Credit: CTS Turbo)
Me driving Exterior/In car:
(Credit: Tourenwagen)
Update
: I'm now running a catless downpipe.
Here are some videos from this morning...
CTS TBE Take off
CTS TBE Fly-By
__________________
2013 CW 4dr 6spd
|
APR
Stage 2
|
Neuspeed FMIC
|
CAI Injen Intake
|CTS
TBE
|
NGP Type 1 Coils
|
H&R 24mm RSB
|
HPA 75A mount
|
Newsouth Vent Pod Boost Gauge
|
42DD Boost Tap
|
3000k HID Fogs
|
OEM Golf
.:R
Tails
|
more...