Quote:
Originally Posted by
C4L
I know pretty much everything about my car but did learn something new when me and the wife picked up her new 2013 CC two weeks ago.

Upon unlocking your car and opening the door, you can hold the window-down switches to roll down the windows before you get in the car.

It works on the Golf/GTI as well and I thought it was good to know given the 90+ degree temps we have been having lately.
Quote:
Originally Posted by
xytbyk
I'm wrong. Had to turn it on in my '10 gti, but it was already enabled inthe '12 TDI. My bad.
Where is this turned on?
Regarding VAGCOM and windows, I much prefer to set 09 - Central Electronics, byte 3, bit 5 to allow opening windows via remote.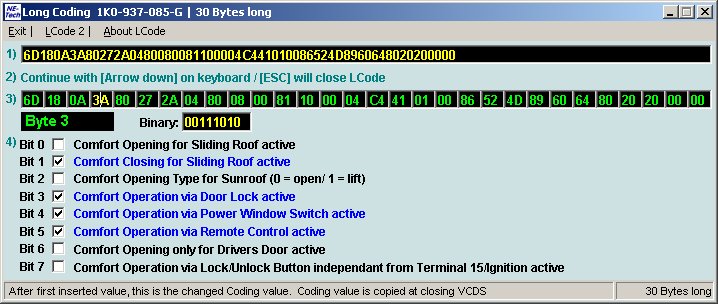 gap