Quote:
Originally Posted by
mxlu
You can vagcom that also! I have mine turn off my lights when my ignition is off.
In case anyone wants to know, check Bit 5 in Byte 15 (unchecked here)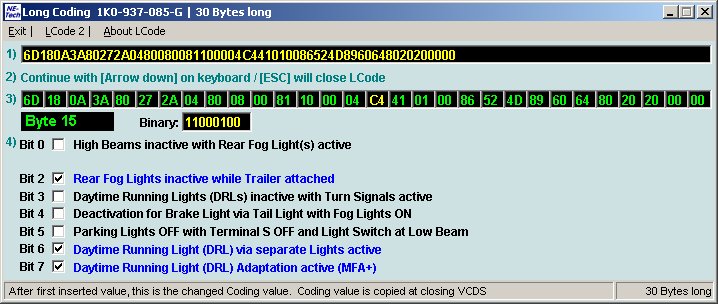 If I turn off my car while the lights are on, everything but the dash lights go out. As soon as I remove the key from the ignition, the dash lights go out. I do have a Euro switch, but the only difference that makes is the park and fogs stay on if the switch is in the park light position. I should also mention that I have halogens, but I am pretty sure this works for HID also.
When doing the seatbelt chime for those (US) that ask, I use ROW. We then take a trip through the MFI/MFD to set all the measurements to US.
gap