Quote:
Originally Posted by
Apexeater
Yes, mine is a manual Shinka edition. That is the key to a more trouble free RX8, autos are nothing but trouble especially the early ones. Your didnt even have the extra port. I think you made a good upgrade. I am going to miss mine but I am tired of doing the "door dance" in a parking lot with my kids. And I want some torque
Here is mine.
Very nice! Shinka! The owner of the dealer I bought mine at had a white one. They're awesome. Yeah, the 04 auto's were doomed from the start! Like I said though, it's still an excellent ride. RX-7's had their fair share of reliability issues too but they're still a very popular car, even outside rotary enthusiasts...Not having to play musical doors will be nice, I've had to do that a time or two, I'm going to take a stab in the dark here and guess you got the 4DR's then!
Shinka must of been even a better ride, better suspension and what not. Plus you had all the extra cool things, the rotary inserts on the fenders, etc
I'm hoping to keep mine, just use it randomly why the itch comes to drive it again. My parents helped me pay for that one a bit (due to the lack of income I had mentioned before) and I feel obliged to just let them have it, but it's no where near the condition to where I'd not feel like an ass if I gave it to someone, so I'll have it for bit until I spruce 'er up some, bring her back to her former glory, gives me time to easily transition and not have to go through RX-8 withdrawl!
Here's my baby *disclaimer - the plates aren't the same anymore, so no lectures about oh em gee you're posting up your plate numbers on the interwebs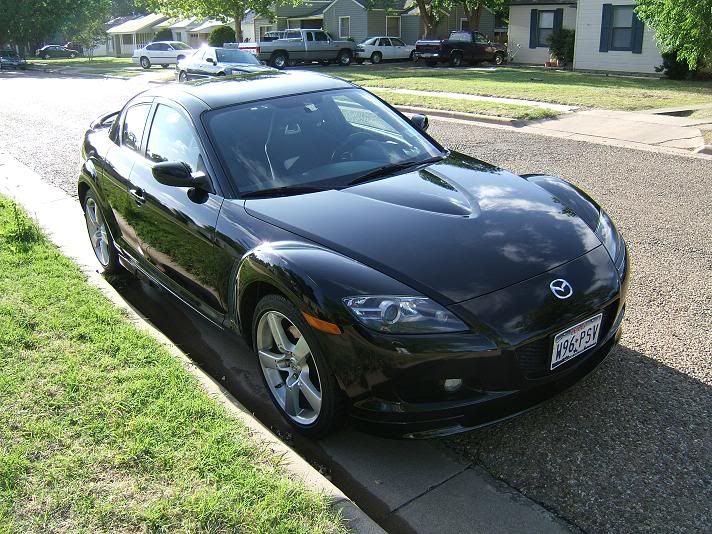 and