We want to thank our customers here on the forums who have supported our website over the past year, from reviews, and DIYs, to recommendations of our product!
For convenience and if you like us on FB you can find the code here:
Quick Link FB Discount
OSRAM Bright - Euro Spec Amber Color - Plug and Play - Error Free - Rear Turn Signals (7440)
Compatible with the Golf R tails and Stock GTI/Golf Tails:
To purchase:
http://deAutoKey.com/product/golf-gt...amber-no-error
[url="http://deautokey.com/product/golf-gti-mk6-golf-r-euro-taillight-turn-signal-amber-no-error"]
To Purchase:
http://www.deautokey.com/product/mk6...ree-and-bright
[url="http://www.deautokey.com/product/mk6-gti-golf-euro-taillights-reverse-cree-led-kit-error-free-and-bright"]
Looking for an error free reverse LED for your Euro Tails, look no further. We have tested and created a solution.
This kit has everything you will need to create an error free reverse LED for your Euro Tails.
You will need to use the resistors that are given in the kit and the t-taps to connect your wires to the resistor.
--DIY by Customers--
[/color]
aamar517 DIY of our MK6 Interior LED Kit
trigger_storey Red Stitch Boot Cover DIY.
--Reviews by Customers--
Chris112 Review of our Interior LED set
Jaxper Red LED footwell comparison
GS631 MK6 Golf GTI Interior LED DIY and License Plate Review
spiker369 footwell Comparison thread
spiker369 Rdash License Plate LED vs deAutoKey.com LED License Plate LED
spiker369 before and after LED pics
Palma Golf 2.5 Interior LED Review
Broox Review of our Red LED footwells
YeahBuddy video of our License Plate LED
ras_42 Pictures of our LED Side Markers on his MK6
Vancity2Constantinople Review of deAutoKey.com Stickerbomb Vinyls
jerome99 Review of deAutoKey.com German Flag Vinyls
--Forum Member Build Threads with deAutoKey.com products installed in their car--
spiker369 Build Thread
Outkasted24 Build Thread
TheGTIChannel Build Thread
ThatGTI Build Thread
Eat_My_Shorts Build Thread
Epic800 Build Thread
JhnR Build Thread
If we missed anyone, please contact us and we will add you!
--Features of our LED Sets--
-Lifetime Warranty
-Footwells dimmable with car controls
-LEDs will "fade out" when you turn off your car just like your current stock lights
-These will not stay on or "glow" or "ghost" after you shut off your car
-Crisp White color – No cheap blue or yellow tint
-No Errors
-Plug and play
Here is a footwell comparison showing evenly distributed light and no footwell spotting: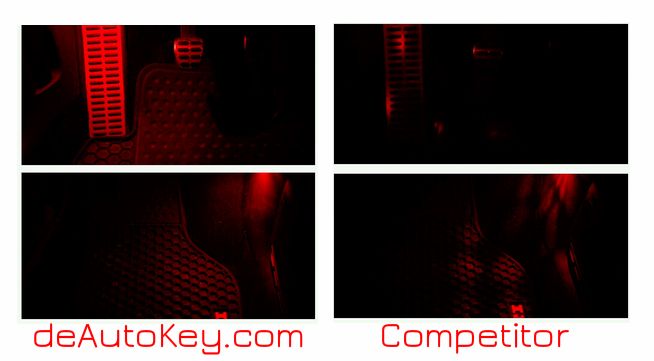 Customer video of our LED fading like OEM lights(converted to a gif):


And finally,
--We want to follow you on Instagram--
Our customers have some amazing cars and pictures of their cars,
please tag your instagram here in this thread
and we will follow you!
@deAutoKey
Installation is simple; all lighting fixtures pop out with a flat head screwdriver!
Don't be fooled by inferior products, these have more LED lights and are brighter than any other LED set on the market, if you do not want a super bright LED interior these are not for you.
SUPER Bright White LED light, set includes:
(2) Front Dome
(1) Front Dome LED (this is an extra piece if your car comes with a 36mm Front dome festoon)
(2) Front Sun Visor
(2) Foot Well
(3) Rear Dome
(1) Glove Box
(1) Trunk Light
We also have blue / red / UV lighting and many more colors available for your domes or footwells, please contact me if you need certain colors.