Bought my carbon grey Driver's edition GTI (used) last month from Fremont BMW (CA). It was high miles (66K) at the time and a little overpriced (IMHO), but sometimes you pay extra for the car you want.
When I bought the GTI, I sold (private sale) my 2002 Infiniti G20 Sport (SR20DE). It was tough to leave the SR20 world, but it was time. All of that being said, I'm completely new to EUDM, VW, and boost, so I'm learning a lot as I go.
Before I get to the GTI, here is my old JDM love baby.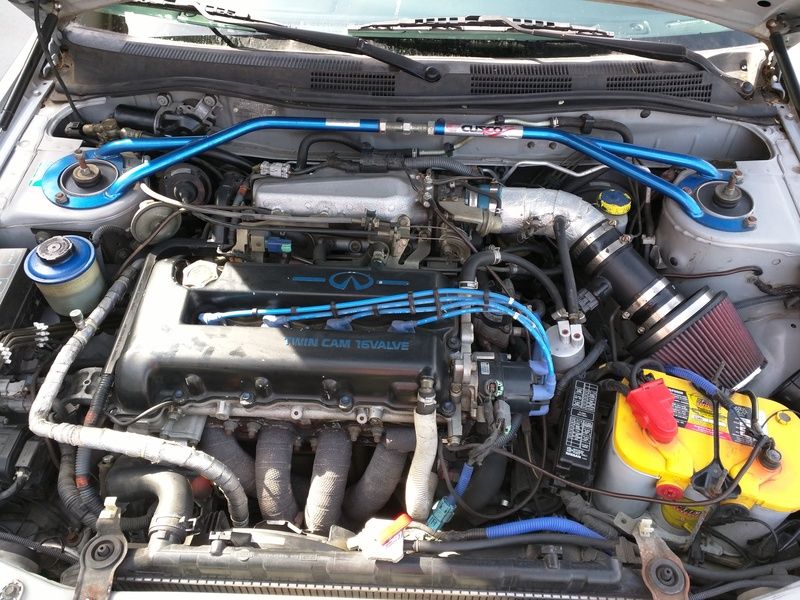 Here is the car the day I bought it:
Goal:
Not entirely sure at this point, just want to keep building. I don't think I'll go BT or track star, but I do enjoy spirited canyon drives.
Now that I'm Stage 2, I'll switch my focus to suspension, then brakes, then ascetics before I look to make more power. That's generally my cycle of how I upgrade my cars.
Current Mods
Engine/Power:
Cobb Accessport v3
Stage 2 [2 Aug 16] -
Link
Freektune
e-tune [2 Aug 16]
GFB DV+
[May 16]
R8 Coils
[Jul 16] -
Link
NGK BKR7EIX
spark plugs (gapped at 0.24") [Jul 16] -
Link
Integrated Engineering Cold Air Intake
with
ECS SAI breather filter kit
[Jul 16] -
Link
SPM 3" 200-cell catted downpipe,
VHT ceramic coated
, wrapped with
DEI Titanium header wrap
, 3"
Vibrant Ultra Quiet resonator
,
RAI J O2 spacer
(post-cat, medium jet, front-facing) [Jul 16] -
Link
AWE S3 turbo outlet Pipe [27 May 17]
Link
Rev9 v2 intercooler [27 May 17]
Link
USP Aluminum DSG filter housing (with cooling fins) [27 May 17]
Link
Fumoto drain valve [27 May 17]
Link
Carbon cleaning [27 May 17]
Link
034 Stage 2 DSG tune [29 Jul 17]
Suspension/Chassis:
034 Motorsports dogbone insert
[23 Jul 16] -
Link
034 Motorsports Rear Sway Bar
(softest setting) [11 Oct 16] -
Link
034 Motorsports Pendulum Mount
[15 Oct 16] -
Link
Ultra Racing middle lower under brace
[11 Mar 17] -
Link
KW ST coilovers [27 May 17]
Link
034 Track Density strut mounts [27 May 17]
Link
034 Street Density motor mount [27 May 17]
Link
034 Street Density transmission mount [27 May 17]
Link
Fender Screw Mod [27 May 17]
Link
Brakes:
USP stainless steel braided bake lines [27 May 17]
Link
Front brake dust shields removed [27 May 17]
Link
Wheels/Tires:
Stock Lagunas
Interior:
Rupse "GTI" seat handle insert
[Apr 16]
Broadway 270mm rear view mirror
[Apr 16] -
Link
Hardwood floor trunk [24 Sep 16] -
Link
Aluminum paddle shifters
[Oct 16] -
Link
Klii Motorwerks plaid steering wheel inlay
[29 Oct 16] -
Link
deAutoKey interior LED kit
[11 Mar 17] -
Link
Exterior:
Matte black w/red accent front VW emblem
[Apr 16]
Matte black rear VW emblem
[Apr 16]
Plasti-dip "GTI" emblems red
[Apr 16]
"Objects in the mirror are losing" side mirror decal
[Apr 16] -
Link
Integrated Engineering rear badge
[Aug 16] -
Link
Smoked side-markers [24 Sep 16] -
Link
Klii Motorwerks plaid rear emblem inlay
[29 Oct 16] -
Link
deAutoKey license plate LED kit
[11 Mar 17] -
Link
Sound/Stereo:
Soundaktor delete [Jul 16] -
Link
VCDS Mods
XDS set to 1
Link
Torque Steering Compensation set 1
Link
Fog lights independent of hi-beams
Link
Comfort turn signal set to 4
Link