All our
HID & LEDs
have a
Lifetime Warranty
&
Ship Free
within the US! They are also
Error Free
!
Why shop with deAutoLED?
Besides having a Lifetime Warranty and Free Shipping on all our items, we also care about our customers and Customers being 100% happy.
Customer Service
comes first here at deAutoLED.
We also test all our LEDs in each model prior to selling - this guarantees that all LEDs will:
1.
Fit perfectly
into your housing
2. Be
Bright
in the housing
3. The
beam angle
looks classy and perfect
4. They are
100% error free
in your car
Quick shipping times:
we ship the
same
or
next day
after receiving your order with a
tracking #
, we take pride in shipping items quickly to our customers.
We tested many options and finally came up with the best solution to transform your boring dim Halogen bulbs to a crisp brighter Xenon bulb which will create a safer more enjoyable riding experience!

*
http://deautokey.com/product/mk6-gti...-and-resistors
*
H7rc Xenon bulbs are created to work great with your halogen reflectors – they are 5mm shorter and have material on the bottom to eliminate glare, these 2 modifications to a regular xenon bulb allows the light to reflect in the same areas of the housing as a regular halogen bulb, this creates an amazing no-glare beam angle.
Below is the beam angle on a garage vs a regular halogen bulb – it is near impossible to tell the difference if it wasn't for the clean light temperature of the H7RC bulb (6k in photo below-LEFT/Halogen Bulbs is right):
These give you the feel and look of a projector light in a halogen housing below is a real life side by side of our H7RC in a halogen and a stock Lighting Package Projector: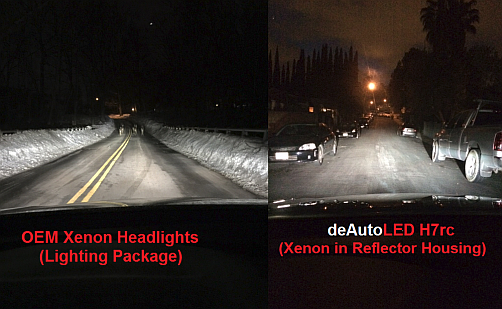 Cut off lines of the H7RC in real driving situations-no possible way to blind anyone driving or on the sidewalk: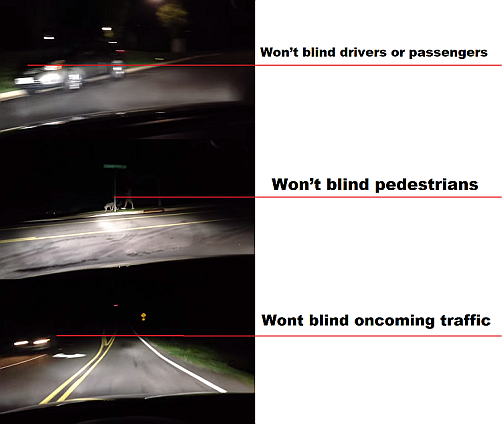 Cut off line next to a low to the ground car – no glare or blinding effects for anyone in the other car:
**
We also have a NO TAP option on our drop down menu, the NO-TAP option DOES NOT require you to tap into any of your factory wiring, which makes for a much easier install, also great if you are leasing your car. If you do not select the "no-tap" option you will receive adapters and t-taps, this method requires you to tap into your wires for power.
**
-----------
*NEW* de360 Fog LEDs for the MK7 Golf - these do not work in the halogen housing HEADLIGHT only the FOG LIGHT
Click here to take you to the de360 LED listing
We sold many and tested the de360 LED kits to work great in the MK7 Golf!
de360 meaning the LED turns 360 degrees, please see video below for an example:
[video=youtube;o1djJOP4g4g]https://www.youtube.com/watch?v=o1djJOP4g4g[/video]
Why is it important that these turn 360 degrees?
The answer is simple, every car's reflector housing is different and varies between manufactures. Placing the LED in different positions in the housing will create a different beam angle. Some cars require the LED to reflect vertically and others horizontally, we have also seen some that worked best diagonally.
Having this ability will allow you to find the best light output and beam angle for your reflector housing. As the video shows above, it is VERY simply to turn the LED bulb in the housing, no extra effort or tools are required.
Video below is the huge difference these make while driving, the video is the same LEDs installed in a Passat B7(these will not flicker in person - flickering is due to camera rate):
https://www.youtube.com/watch?v=kaYDXb3D6v8
https://www.youtube.com/watch?v=ddNHfCptANc