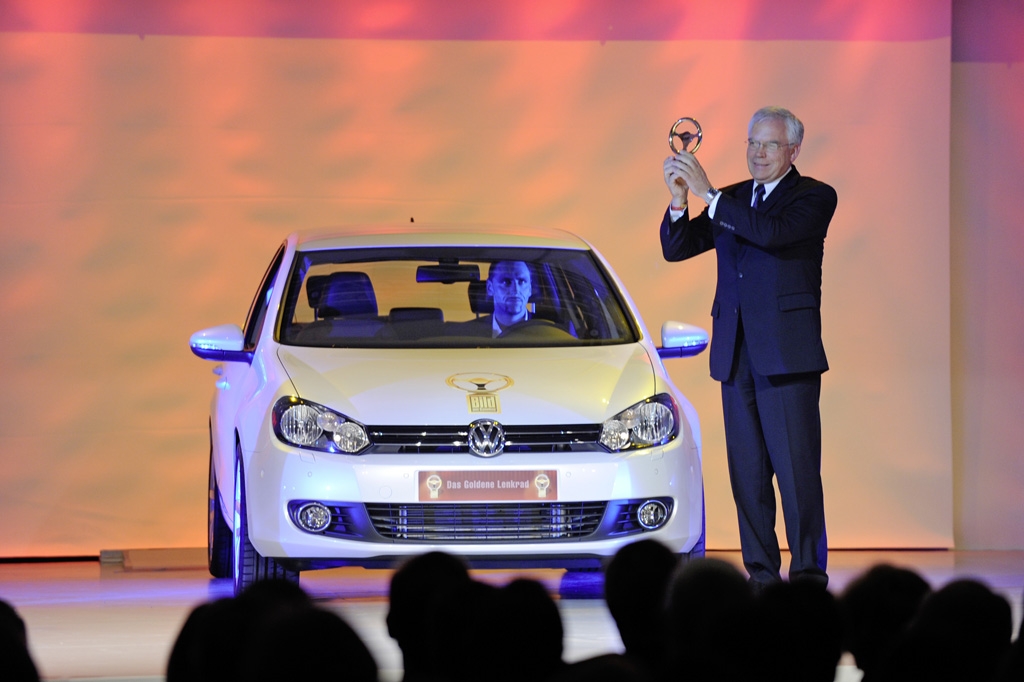 "Goldenes Lenkrad 2008" – Prestigious award for the best Golf of all time
Expert jury rules: "Superior win in the compact class"
Gold for the Volkswagen Group in a total of four categories
Wolfsburg / Berlin, 06 November 2008 - Success on a full scale – that was the motto last night for the Volkswagen AG at the awards ceremony of the "Goldenes Lenkrad". An expert jury of the German newspaper "Bild am Sonntag" honoured the best new releases of the year, among them the 6th generation Golf. "The win of four categories confirms that the whole Group took the right course. We offer an incomparable spectrum of models and an enormous variation of design and technology. We make the perfect cars for everyone", says Prof. Martin Winterkorn, chairman of the Board of management at Volkswagen AG, who accepted the special award "Kleines Goldenes Lenkrad" on behalf of the Group that evening.
Loud cheers at the Springer publishing house in Berlin, especially for the new Golf: The most valuable car of all time put the compact car competitors in their place. The quality and comfort level, unprecedented in this price class, made it to the clear winner. In Germany, the new Golf was launched in October with a starting price of 16,500 Euro.
Also, last night three further categories of the "Goldenes Lenkrad" gave the whole group reasons for celebration: The Seat Ibiza won the small class category. The Skoda Superb succeeded in the mid-class. The Audi Q5 emerged as the winner in the off-road special class. In addition, the new Scirocco from Volkswagen ended up on a superb second place in a special class for Coupés, voted for by readers.
The "Goldenes Lenkrad" was founded by Axel Springer 33 years ago and has since been awarded every year. The expert jury was composed of technicians, motor sport persons and celebrities and judged among other things the running gear, the environmental compatibility, the safety, the value for money, the design and the general driving impression.