OLD THREAD:
http://www.golfmk6.com/forums/showthread.php?t=27389
Gentlemen (And ladies),
I've come to a crossroads in my build. With the recent acquirement of another income in the family, I've decided to take my adventures a little further down the rabbit hole. At the expense of my bank account, this build is still very much low key, its time to benefit the community and put my money where my mouth is.
Overall Background:
I've been in the VW scene since late 2005. I've lurked Golfmkv, Vortex, and Golfmk6 forums. I could not afford anything at the time due to my 100% supporting of my wife through school and had to stick with my '06 Civic LX for a while. Then the opportunity hit me.
My MKV was purchased back in July by a guy named Jed (User name: TheJakofallTrads). He was a huge supporter of the Golfmkv forums and brought a lot of technical insight to the table. He found he couldnt keep spending the money on the car when he never drives it, so enter me. I flew up and met him in Baltimore and drove the car back home in the same day. And if I had the chance to do it again, I would without a shadow of a doubt.
The car came with a decent quality set of mods that I stuck with until I went to the APPR BBQ in 2011. I won the Stage 3 raffle, and traded for APR K04, Downpipe, Intercooler, and Carbonio. Needless to say, this was the perfect overall setup for my build.
UPDATE
Quote:
Yes. I'm demodding K04 and going to Stage 2. There's not point in hiding it anymore.

Why you may ask? Well its quite a number of things at this point. I've started having the feeling around Thanksgiving and it just never was kept at base. I want to focus on keeping the car in a "ready" condition to be sold at anytime and while the K04 is a straight bolt on turbo, its certainly not a quick install/uninstall.

Recently, with my new commute, I've found myself staying around 45-60mph on the country roads and never having traction out of turns when I need it. Sure, I could get LSD, but at some point I had to realize this car is not going to be with me much longer. I also dont even reach full boost anymore. If I do, I'm going at least 80mph and up to 130mph. I'm right at 70K and the miles are just racking up. I want to keep the car in a livable (yet still very fun) condition and stage 2 with a fully built chassis will do that.

I'm still doing Bilstein B8s. I'm still doing XB, I'm still doing 17x8s with 235s. I'm really focused on maintaining that ride quality and overall balance because my roads are really bad for about 1/4-1/2 of the commute.

So, I called Bowers up and we're doing a swap. His turbo has less miles on it so I figured it was a nice deal on both of our parts.
Current Mods:
Performance
APR Stage 2
APR FMIC
APR Carbonio Intake Stage 1
APR Carbonio Intake Stage 2
APR Downpipe
APR Boost Tap
BFI Engine and Trans Mount
ECS DogBone Mount
Noise Pipe Delete (2011+ Pipe)
Unitronic DSG Stage 2 Tune
Rev D DV
APR Front Sway
APR Rear Sway
MK6 Driver Gear Springs (2DR DSG)
S3 Lower Control Arm Bushings
Hankook Ventus V12 Tires
Centric HP Rotors
Stoptech Street Performance Pads
USP SS Lines
Tyrol Caliper Bushings
Tyrol Rigid Collar Subframe Kit
Unibrace UB
Unibrace RB
Cosmetic
Nokya Yellow FTP and Fogs
AWE Boost Gauge
Detroits
Removed Modifications
(This allows users to ask questions about pasts mods)
APR K04
KDR TSI Grounding Kit
Neuspeed Sport Springs
Bilstein Sport Shocks
Team Dynamic Pro Race 1.2s
Bridgestone Potenza RE-01R
BSH Truseal Intake Stage 1 and 2
AWE Boost Tap
AWE DV Relocate
ST Coilovers
Wolfsburg Front Grille and Fogs
A little Commuting background:
2011: 55 Miles > 50mins
2012: 36 Miles > 36mins
2013: 38 Miles > 40mins
(CURRENT)
For the last 1.5 years I've had the car, my commute has remained the same. Slight city driving through Birmingham and the rest is interstate until I reach my exit. The road quality has been so-so through it all, but enough to justify going from a track setup, to a street coilover setup, now to a functional DG+OEM damper setup.
Now, my commute has changed with moving further out in the country. I now take a rural county road through twists and turns and ultimately at slower speeds, but definitely a lot more fun, however, ride quality has suffered and calls for an immediate change. So what does this mean? See below
Planned Modifications:
Bilstein MK6 (Sport B8)
TO BE INSTALLED
TT Mounts
TO BE INSTALLED
Team Dynamics Pro Race 1.2 Gunmetal 17x8 ET45
Continental DWs 235/45/17
Golf R Brakes (Or equivalent)
MAYBE 2 Piece Rotors
Unibrace XB
Reflash Uni DSG Tune (Rev limiter Decrease and modified Sport Mode tuning)
Euro Front lip. (I'll keep it Flat Black to resemble the textured look)
WMI for Summer Cooling. (Cooling Mist or Snow) - Secondary Priority at this point.
Build Pictures: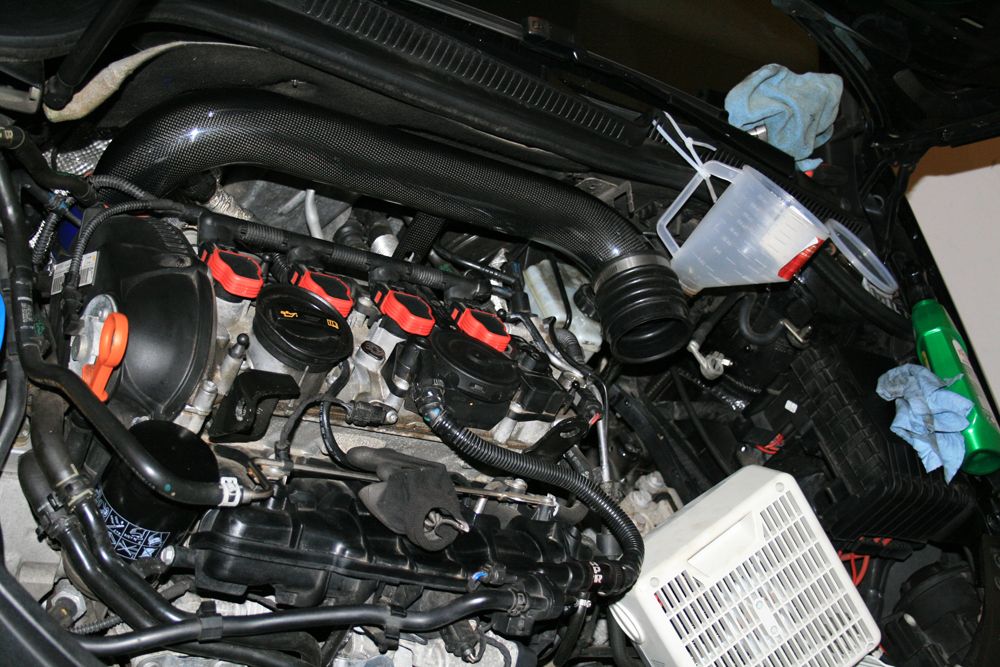 Reviews:
2011 APR BBQ
ST Coilovers
KDR TSI Grounding Kit
APR K04 Review
Driver Gear Springs + APR Sways (F&R)
Technical Threads:
http://www.golfmk6.com/forums/showthread.php?t=21820
http://www.golfmk6.com/forums/showthread.php?t=44138
http://www.golfmk6.com/forums/showthread.php?t=18432
http://www.golfmk6.com/forums/showthread.php?t=28778
http://www.golfmk6.com/forums/showthread.php?t=20130
http://www.golfmk6.com/forums/showthread.php?t=19093
http://golfmk6.com/forums/showthread.php?t=23309