02M 6-Speed Short Shift Options for MKIV, MKV, and MKVI
*Please note this thread is discussing shifter options for the 02M VW 6-speed transmission only (includes MKIV, MKV, MKVI Golf, Jetta, as well as Audi A3/S3/TT and a few others from VAG)
If I had the time and the money I would probably buy every single option and try as many combinations as possible, as I feel one's shift components to be one of the most critical interfaces between machine and driver. Since I probably won't be purchasing every single option anytime soon, I am requesting the imput of forum members to contribute what they can to this thread as a means to help facilitate decisions/discussions, and sharing of ideas. If there is a blank spot and you can fill the answer in, just reply to this thread and I will add it when I can.
I know people will be looking to this thread to get answers – but the reality of the Short Shift (SS) world is you will most likely walk away with more questions. It seems every time a new thread started about 'which SS should I get?', or 'which SS is better?' people often feel more confused than ever. The reality, barring some flaw in engineering, is that the best SS is what feels best for YOU. The only way to know is to try and get a feel for as many as you can from people who already have a SS. Or buy a SS, and if you don't like – sell it, share your thoughts, and try again.
I will try to stick to the 'facts' and manufacturer claims etc in these original posts. By all means I expect and welcome many varied opinions. This thread is not meant to say X is better than Y, but rather a resource that people can refer to when they wish for clarification between X and Y (and Z, etc)
I will add to the original post as necessary to keep this information as complete as possible as people contribute.
I debated how to present each SS and in what order, I don't really have a rhyme or reason, other than I will present them in a design variation/evolution approach, with those closer to OEM first.
**This first post will be focusing primarily on the fore-aft, or front-to-back shifter. The side-to-side (or relay lever) will be discussed in post two. And Bushings etc in post three.**
The Short Shift that everyone thinks about (no, I don't mean shortening your throw using a hacksaw – will not be discussing that here), is commonly the fore-aft, or front-to-back (F2B) lever. This lever affects how long your throws are from 1 to 2, or from 3 to 4 for example.
Modification of this (F2B) lever alone will not affect side-to-side (S2S) distance, however, if there is a good interface between your F2B and your S2S, this may help eliminate slop, or the 'spoon in mashed potatoes' effect.

First off, let's look at a common F2B OEM 6-speed Shifter
This is the common 6-speed shifter which comes standard on GTI's and GLI's for example (note this has later square cable end attached)
Cast with zinc coating
PN 1K0 711 048 N?
Cost – debatable, I'm sure there is an OE price, but if you're looking for a SS this is NOT your answer.
Distance Pin to Fulcrum approx. 6.7cm (not confirmed)
Here we see a nice
comparison of an early OEM shifter (like above), and to the right, the newer OEM shifter
found on MKVI Ed 35 GTI, MKVI Golf R, Audi S3 / TT-S etc and is commonly referred to as the 'Euro SS'
Notice the pin position relative to the fulcrum on each – Euro SS is closer by approx 0.7mm
Cast with zinc coating
PN ? 8J0 711 051 E (arm) and 8J0 711 046 E (under Audi logo)
Cost – approx $50 USD
Distance Pin to Fulcrum approx. 6.0cm (not confirmed)
Approximate reduction in throw from regular OEM 6-speed lever 15% - 20%
Here is another look at those
OEM shifters
we just examined. An easy way to identify which is which is the 'Euro SS has a hole above the triangle in the casting between the pin and the fulcrum
Next we'll look at a solution from Forge Motorsports
. Originally from what I can gather, Forge simply re-drilled and slotted OEM shifters (presumably from the MKIV) and provided an adjustable pin. (Can't find a photo of this, I could be wrong). Later, Forge did their own casting (based on OEM), but slightly modified and still with the slot for pin adjustment.
Cast, zinc plated?
Cost – approx $130 USD
Distance range from fulrum to available pin positions (min/max)??
Approximate reduction in throw from regular OEM 6-speed claimed 0% (stock) to 40%
Forge's position is that a counterweight becomes less important the shorter your throw is. Now, in terms of physical design it becomes very difficult to shorten the S2S with a large counterweight. Do they speak the truth, or is it their way of explaining why their counterweight is small compares with some other designs? It is important to note that there are other short shifters for the 02M without a counterweight. Again comes down to personal preference.
Forge vs Euro SS
Similar to Forge,
here is VWR's solution
(not sure which came first, but they look awful similar, don't they!)
Cast, zinc plated?
Cost – $250 USD *note – includes S2S lever and associated hardware
Distance range from fulrum to available pin positions (45mm min/75mm max)
Approximate reduction in throw claimed 25% (compared to Forge, I would like to know the difference as the F2Bs look similar in adjustability. I would assume 25 to 40% reduction range)
Just the F2B from VWR
The VWR 'kit'
*Do not make the mistake of assuming VWR is VAG's VW Racing division, they are a tuning company like many others. This is NOT an OEM piece as many might have you try to believe.
Now here is a ripoff if I ever saw one.. Ralco RZ (looks EXACTLY like VWR's offering, only much cheaper)
Cast, zinc plated?
Cost $85
Claimed reduction - up to 40% (so why does VWR only claim 25%?)
if you bought this and the metal OEM relay lever (PN 1J0711202J) and a couple white plastic bushings (1J0711067L x2) you would be much cheaper than the VWR kit..

This is VF Engineering's latest SS
, not to be confused with VWR (people use these two names interchangeably sometimes, however you can see they are two very different units). VF's SS does not have a slotted adjustability, but rather it is adjustable by selecting one of two pin locations.
Cast, powdercoated?
Cost - $150 USD
Distance(s) from fulcrum to pin ??
Approximate reduction in throw claimed 22% and 36%

I found this one but never heard of anyone running it.. Autotech for the 02M
Material? finish?
Cost - $80 USD
Distance from pin to fulcrum ?
Claimed reduction in throw 20% from standard 6-speed

Another option is HPA's 305 version for the 02M
. It too is adjustable via one of two pin positions. Notice the large counterweight. As opposed to a F2B like Forge, having a large counterweight while shortening your throw may retain an OEM quality to the shift as some have said.
Cast, zinc plated (some are powdercoated)
Cost – $150 USD
Distance(s) from fulcrum to pin approx 40mm / 50mm
Approximate reduction in throw claimed 20% and 35/40% (not sure why it is presented like this. Earlier adverts claimed 20% / 35%, casting looks the same)

This one from HPA looks polished
. Not sure if that was done from HPA directly?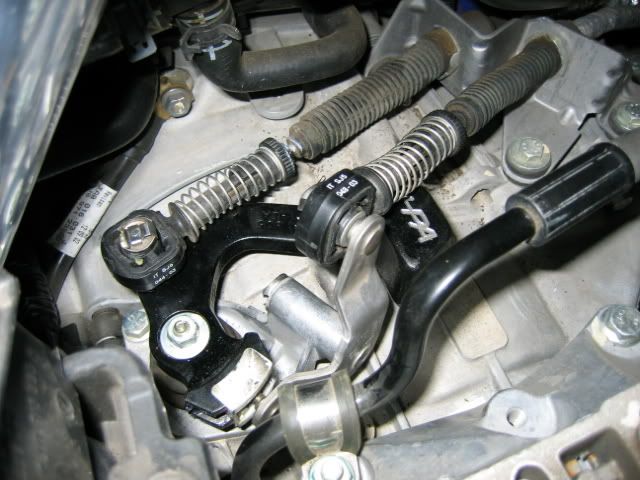 Here is Neuspeed's answer
. What it lacks in adjustability (it has a fixed pin, like OEM) it makes up for in shininess (if that matters to you). Large counterweight but not as large as HPA's.
Billet Aluminum
Cost - $230 USD
Distance from fulcrum to pin ??
Approximate reduction in throw claimed 40%
Here is a side by side of an OEM piece (can you tell which one?) vs Neuspeed's SS
Up until now, the options we have seen have been variations on the same idea..

The Sigma 6 SS from DieselGeek
not only reduces your fore-aft, but also your side-to-side. (We will be discussing options for your side-to-side with the above options on the next post, but for the purposes of DG it is difficult to separate the two as they were designed as a unit)
Billet Aluminum
Cost - $195 USD
Distance from fulcrum to pin ??
Approximate reduction in throw ??

Notice the lack of a counterweight in the DG unit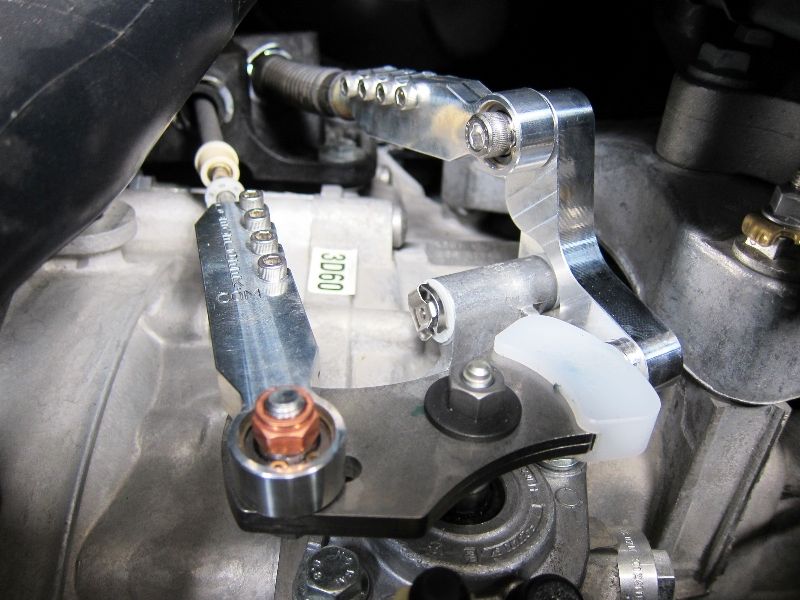 The SS options discussed thus far are the more common ones we see nowadays, but in my searching I came across some others I thought I would share
Here is an option from TWM Performance
, does it look familiar? Not sure which came first, but it does look like TWM has shifter options for many makes and models.
Billet Aluminum
Cost - $280 USD (comes with weighted shift knob)
Distance from fulcrum to pin ??
Approximate reduction in throw claimed 30%, no apparent reduction in S2S

With optional shift knob from TWM

Earlier DG Race? Looks to be a combination of billet and stamped steel.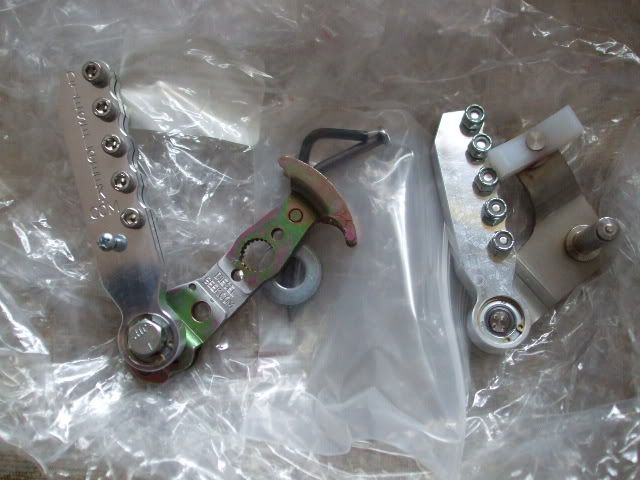 Here are some less common or variations on the above F2Bs
Early Neuspeed with Ball pivot instead of pin
(Ball Pivot used up until MY2002 or thereabouts)
How about this for adjustability from ECS Tuning..
Cast shift arm
Cost - $250?
Distance from fulcrum to pin positions?
Claimed three percentages of adjustment (49, 28, 7%) as well as a stock setting. Also, adjustable counterweights.

Anyone running EIPTuning's version?
I can't find much info on this kit, other than the pin they use on the F2B might be the older 10mm

Early VF Engineering design.
Hmm, look familiar?? I would say identical cast to another popular version we all know. Can't find much info on this either.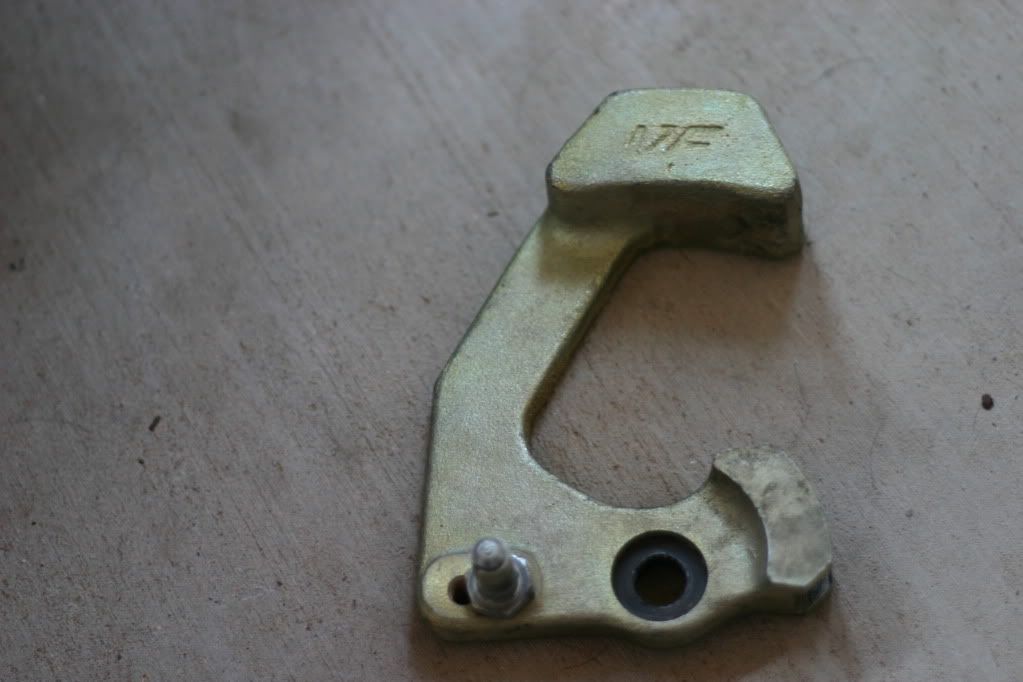 Here we see two OEM levers from a MKIV
I believe. The pins have been redrilled to different locations on each. You can also see from this image where Forge and VWR got their casting design from – early OEM.
And I just had to share
this guy
's 'design'. (his theory was that by relocating the pin FURTHER from the fulcrum you would, in effect, create a MORE precise, and quick shift as you give the syncros time to do their thing. Also, by grinding down the counterweight the lever could function without the drawback of momentum). Not only did he lengthen his F2B, but he SHORTENED his S2S for a rather, um.. Unique combo? You be the judge.

Hope you have enjoyed, and thanks to those I borrowed pics from! I'll be slowly updating and revising this as info is presented. And by all means if there is anything else you want to see covered wrt this topic please let me know and I'll try to include it!