I posted this on the vortex and thought I would also share over here. If you've read this over there it is the same info. If you haven't read it, enjoy.
Basically, I just wanted to share my tuning experience with everyone. For some background, I have a 2012 Golf R with a Stage 1 GIAC flash, a APR Carbonio intake and about 9700 miles on it. A few weeks ago at Fastivus, I was looking around the APR booth and chatting with one of the guys from APR about his Stage 3 Golf R. During our conversation I was introduced to someone from a local shop, EuroCode, that sells APR. He was talking about how great APR was and how great their tune for the Golf R is. I then mentioned that I was GIAC Stage I, this opened the conversation up even more. I know that everyone has their opinion on what company is better and why but he really seemed quite passionate about APR and had confidence that the APR tune for the Golf R performs better than the GIAC tune for the Golf R. I have been satisfied with my GIAC tune, especially when compared to stock, but I was very intrigued by his claims and had to find out for myself.
So, I scheduled some dyno time for my car, had it dynoed in 91 octane mode (PUMP) and in stock mode (I have the fully loaded GIAC tune with the switcher). Once this was done, I headed over to EuroCode, had it flashed with Stage 1 and 91 Octane map and went back to the dyno and dynoed it again. Below are the results.
Red = APR
Purple = GIAC
Teal = Stock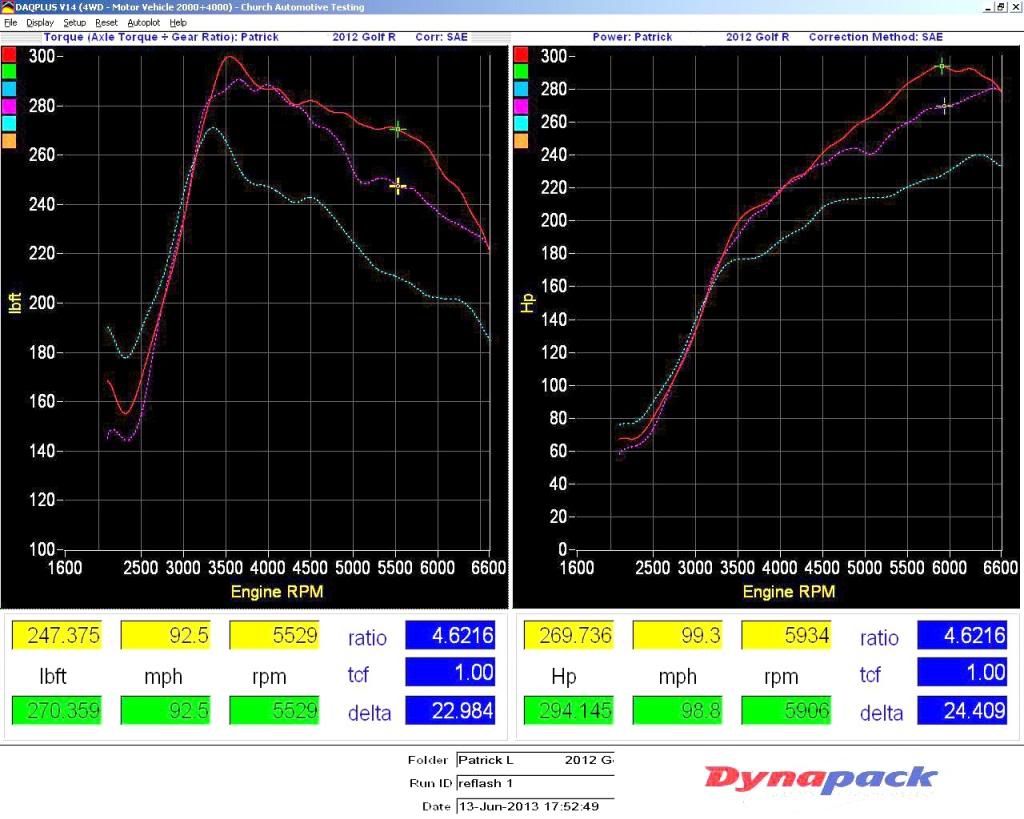 As you can see there was a 24+ HP difference between the APR and the GIAC and 23 lb/ft of torque (I think torque peaked at about 299). As you can imagine with these results I decided to keep the APR tune instead of going back to the GIAC. All the way home I just couldn't believe how much different the car was behaving. I am amazed.
This was done on the same day, same tank of gas and the same dyno. The dyno was a DynaPack run in 4WD, not FWD. The dyno was at an independent automotive testing facility. Each tune was run about three times and the best run from each tune was taken for the graph. It just so happens that the best run was the first run for all of them.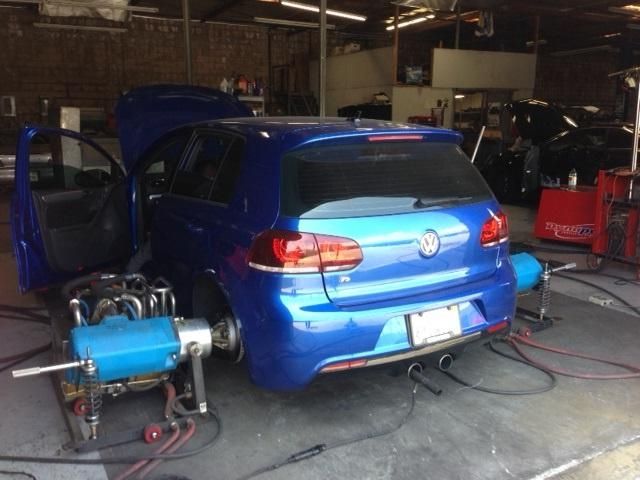 Disclaimer - I am not affiliated with APR or EuroCode, I'm just an "average Joe" that loves his R. I was at the dyno by myself and the car was in my possession at all times.