Warning: This is kind of a brain dump/life story/mod list thread. Expect run on sentences, lack of paragraphs, poor spelling and bad grammar
Shadow Blue 2011 MK6 GTI Autobahn 6spd CBFA Mods:
Engine:
7/28 Update...Scored a deal for a brand new stage 3 GTX kit and ordered a Neuspeed intercooler. Install should be in the next 2 weeks. I will be selling my APR ko4 with about 9k miles and APR stage 2 intake pipe
APR Stage 3 GTX2867
APR Ko4 V3.1 (Removed)
APR Mobile
42Draft Designs Catless Downpipe...
Review Here
HPA 75a Durometer Subframe Bushing
APR Stage 2 Intake Pipe (Removed)
R8 Red Top Coils
NGK BKR8EIX Plugs Gapped .024
PTP Firewall Blanket
Neuspeed Intercooler
Neuspeed P-Flo Intake
Neuspeed ko4 Turbo Outlet Pipe
DieselGeek Shifter
FFE Shift Bracket Bushings
Modshack Low Profile Hood Strip
Removed Under Hood Insulation
42DD 3" Cat Back
Flowmaster 4" Double Wall SS Exhaust Tips
IE Rods...Future
BFI or VibraTech Engine & Tranny Mounts...Future
Peloquin LSD...Future
ECS Tuning Clutch Bleeder Block
USP Motorsports SS Clutch Line
DXD Stage 3 Drop-in Disk
KMD Tuning Clutch Kit...Future
Aquamist HFS-4 DPI WMI System...Future
Catch Can Set up after carbon cleaning and WMI is installed...Future
Suspension:
Bilstein B14 Coilovers...
Review Here
034 Motorsports Density Line Strut Mounts
SKF Strut Bearings
Super Pro Adjustable Roll Control Ball Joints
Unibrace UB...
Review Here
Unibrace XB...
Review Here
APR Front & Rear Sway Bars
Michelin Pilot Super Sport Tires 225/40/18
Tyrol Collars...Future
Unibrace RB...Future
Possible TTRS Aluminum F&R Uprights...Future
Exterior:
Gloss Black Vinyl Roof Wrap
Lamin X Yellow Fog Film
Ziza Yellow Fog Light Bulbs
Uro Tuning Rear Wiper Delete
Textured Black Mirrors
Gloss Black Rear VW Emblem
Shave hood notch...Future
Badgeless Gti Black Grill...Future
Paint All Trim Pieces (Valences, Mirrors etc) Gloss Black...Future
Tint the windows...Future
OEM Front Lip in Gloss Black...Future
Shave Rear VW Emblem...Future
Interior:
VW CC Shift Knob
P3Cars Vent Gauge w/ Analog Boost Tap
Alcantara Steering Wheel, Shift Boot, E Brake Handle, Pillars and Headliner all w/Yellow Stitching...Future
Recaro Sportster CS Black Leather Seats...Future
Simple 4 point Cage w/ Harness Bar Powder Coated Yellow...Future
Yellow Seat Belts...Future
RNS 510 or possibly Aftermarket Double Din Nav Unit...Future
__________________________________________________ _____________
Car Bio:
I never had any intentions of make a build thread or journal but I am bored so here we go. First a little back story of how I came to own my mk6 gti. I have always been a fan of VW every since I was 17 and my friend bought a brand new 98 Ginster Yellow vr6 Drivers Edition leftover. I loved the build quality, styling, the vr6 motor and how it drove. Basically everything about the car. I had a 93 5.0 LX fox body mustang at the time with a ton of work and the difference between the 2 cars was obviously night and day. The main thing I hated about both of my fox bodies was they are serious rattle traps and the super stiff suspension setup I had did not help that situation. The mk3 gti was so so tight, solid and quiet. After driving that car a lot and some other European cars I was hooked. I have a few actual photos of my 2nd Claypso Green fox body but I have to find em' and scan them in.
Fast forward a few years and a bunch of cars I finally got myself a 2000 gti vr6 glx. It was flash red with black leather car was mint when I got it. I did all the bolt on's and a tune, some suspension work the usual. All the while loving the Jazz Blue 20th anny cars that came out a few years before. I kept my 2000 for about a year and a half and traded it in for a mint low mile CPO Jazz Blue 20th. I don't have any pictures of my 2000 vr6.
Again I did all the bolt ons, tune etc and eventually a gt28rs. I loved that car until my wifes lease was up on her mk4 Jetta and we went shopping for an mk5 Jetta. While waiting for the paper work and shit to be done on her lease I decided to test drive an MK5 R32 and fell in love with the vr6 again. Actually I never fell out of love with the vr6. I don't really care for turbocharged motors. I much prefer the instantaneous and linear power aspects of a good NA motor over the laggy feeling power and the characteristics of turbocharged engines. Anyway I put my 20th anny up for sale shortly after and it sold pretty quick. Here are a few pictures of my 20th: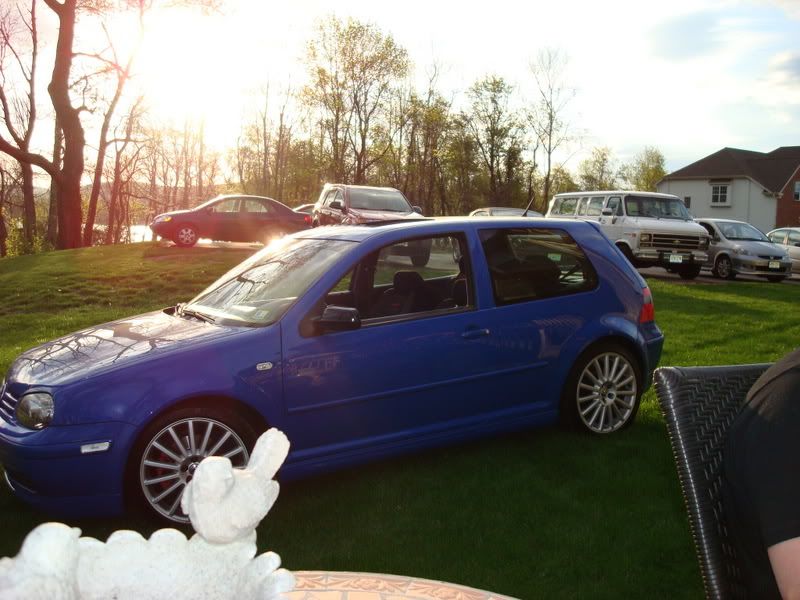 This is a photoshop my friend did a long time ago I though it cool!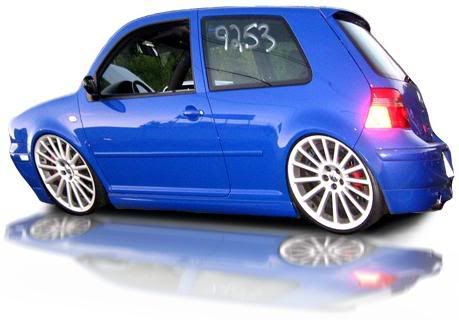 The day I dropped the car off to the new owner I went and bought a DBP MK5 R32. Luckily they were running a great lease program at the time so I decided to lease it for 2 years instead of my original plan of just buying the car because about a month in I was so over the DSG. I didn't do much to that car party because it was a lease and mainly because I had absolutely no intentions of keeping it. I did the exhaust valve bypass, EVOMS intake, subframe mount and that was it. It really is a shame we didn't get a manual trans option in that car...I would still have it if it was stick. The mk5 is worlds better chassis then the mk4 as well as having a way nicer interior and the chassis with the 3.2 vr6, haldex and a manual trans would have been an awesome combo.
Here are a few pics of my R32: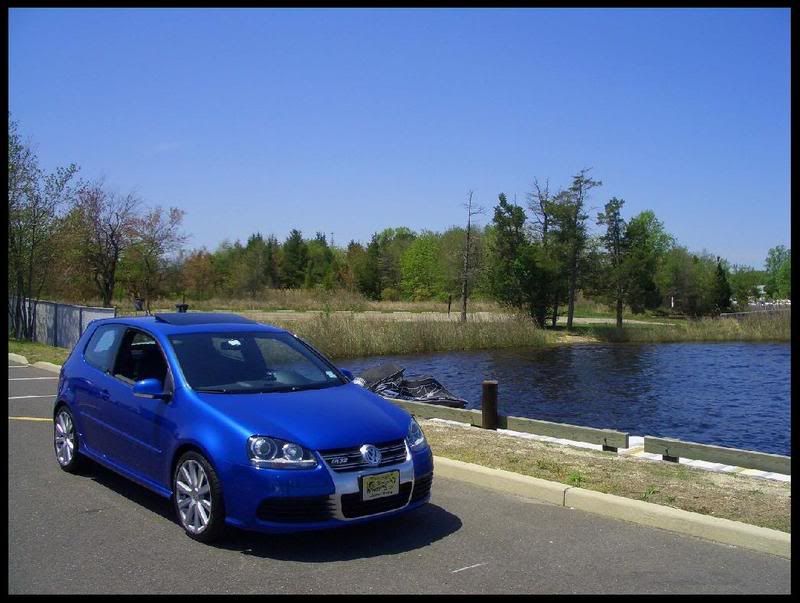 I was driving pretty far for work at the time so I went over mileage a few months before my lease was up so I went and bought myself an 06 is350 and parked the R32 till it was due back. I happened to drive through a local Lexus dealership and saw they had a black on black is350 sport package which is pretty fuckin rare. Long story I bought the car as an impulse buy since I was over mileage and every mile I drove was costing me extra money. While I really liked the IS it was so so so boring to drive. Just not rewarding or engaging at all. It was also automatic and after already not having a manual trans for 18 months I was really wanting a clutch pedal back. Sorry no pics of my is350.
From the day I bought the IS I was still looking at cars on the internet sites. Everyday I was checking out Cars.com and Autotrader.com looking for something that caught my eye but mainly Corvettes. Both C5 Z06s and C6 Z06's as well as M3's both e46 and e92. A few months go by of me test driving a lot of different cars and trying to make deals on a few cars. I was having fun looking, test driving and wheeling and dealing so I wasn't in a huge rush to get something else but everyday of driving automatic made me more and more depressed.
One day I think it was a Thursday I do my daily checking of Cars.com and see an Alpine White e92 M3 fully loaded CPO low miles 6spd yadda yadda everything I wanted except for 19" wheels but no big deal. I got really excited and decided I would go check it out on Saturday. Sat came I got up early my wife had plans with one of her friends so I went to check the M3 out. Everything was straight with the car. I told them I wanted them to take my IS and get me out the door for a certain # and they agreed so I signed the papers and drove it home. I was so happy to have a clutch pedal back in life. Pics of my M3:
When I was a young kid there were 2 cars that I truley loved and dreamed about owning one day. They were a Corvette and an M3. At that time it was the C4 and e36 so naturally after all those years I owned my childhood dream car. It was all mine I got to drive it everyday I was seriously the happiest I ever been in my life. Everything was going good. I had an awesome paying job, a great wife, lots of disposable income and my dream car. Well that dream life was short lasted. less then a year after buying the M3 I was at an NJBMWCCA track day down at NJMP. I had a great first day and was on my way back to the track early in the morning for the 2nd day of racing. I was 1/4 mile from the entrance to NJMP when traffic was stopped because there was like 8 or 9 deer in the road. I come to a stop and 10 seconds later...BAM my whole life changes. Some dumb broad spills coffee and hit me at full speed. Pics of the M3 wrecked: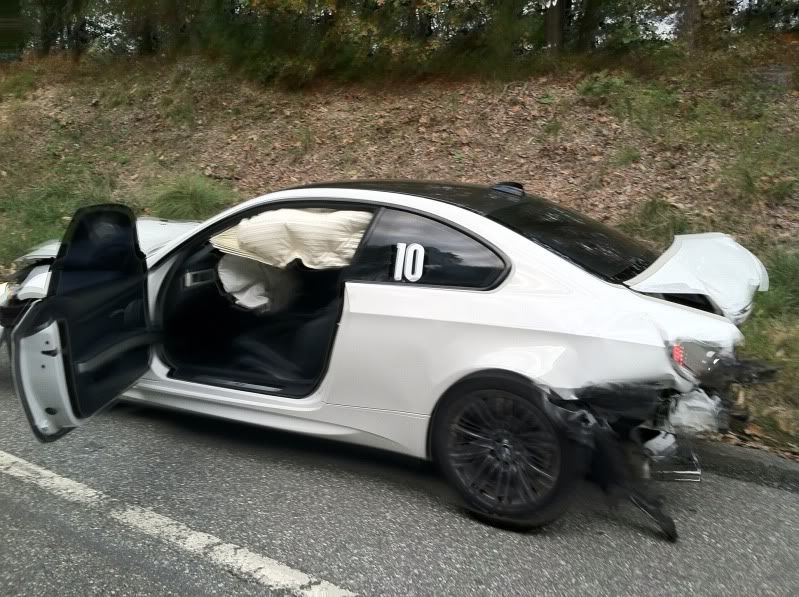 The M3 was totaled, my back was fucked up and I lost my job. Little did I know everything I worked for and had was going to be lost. So without getting into too much detail I was dealing with a lot shit personally and I didn't have a car. I was able to borrow my parents extra car my father had bought for my mother as like a weekend car so to say. It was an e36 325cic and I drove that for like 4 months are so while looking and trying to decide on what I wanted to do about getting a car for myself. I was looking on Cars.com one day just out of the blue and found a 2011 Autobahn Shadow Blue 2 door 6spd low mile CPO gti for a VERY reasonable price. Needless to say i went and bought the car. I should mention that over the past 3 years or so ever since the mk6 cars came out I went a few times to try and by this exact same car to use as a daily driver but there always seemed to be a reason that I couldn't get the car. Those reasons expanded from they couldn't get Shadow Blue to I could order one but it was like a month wait to they just didn't want to cut any deals on the Autobahn cars. So when I found this exact car I have wanted but couldn't get for years I got excited. That brings us to the mk6. Misc pics I have taken not in any order: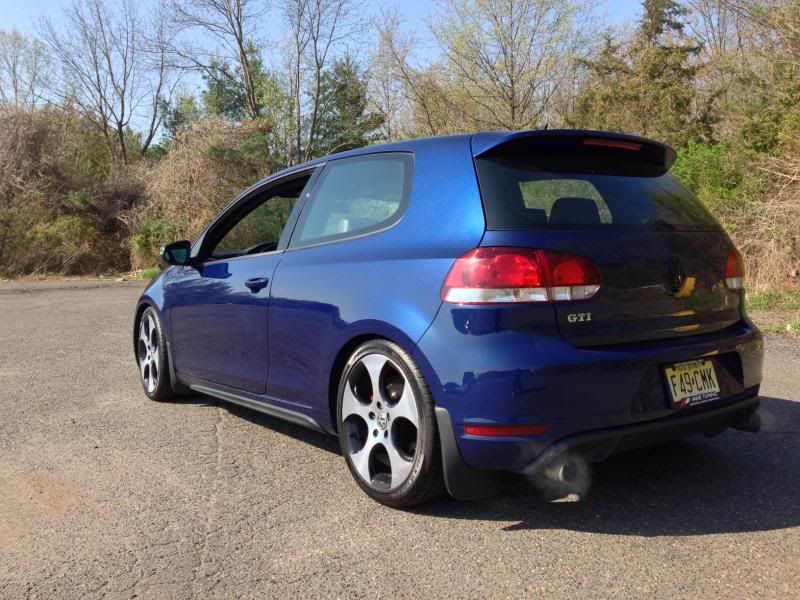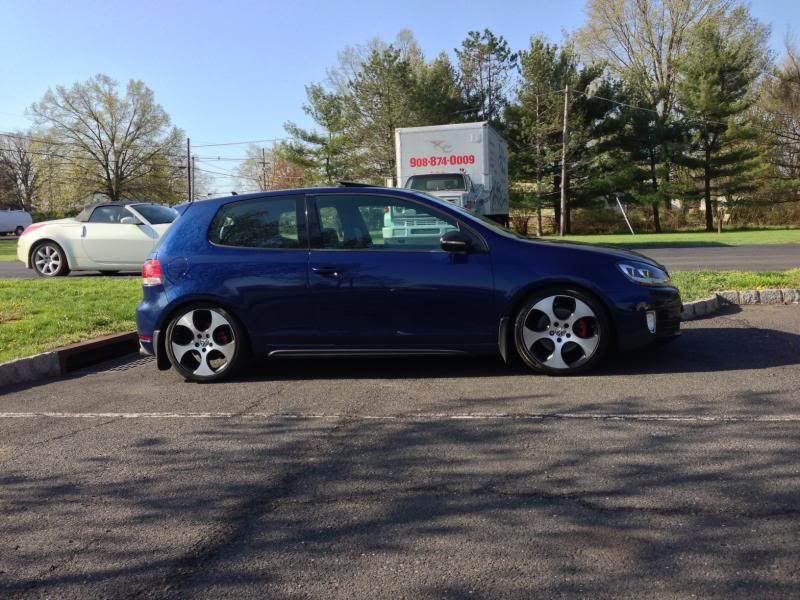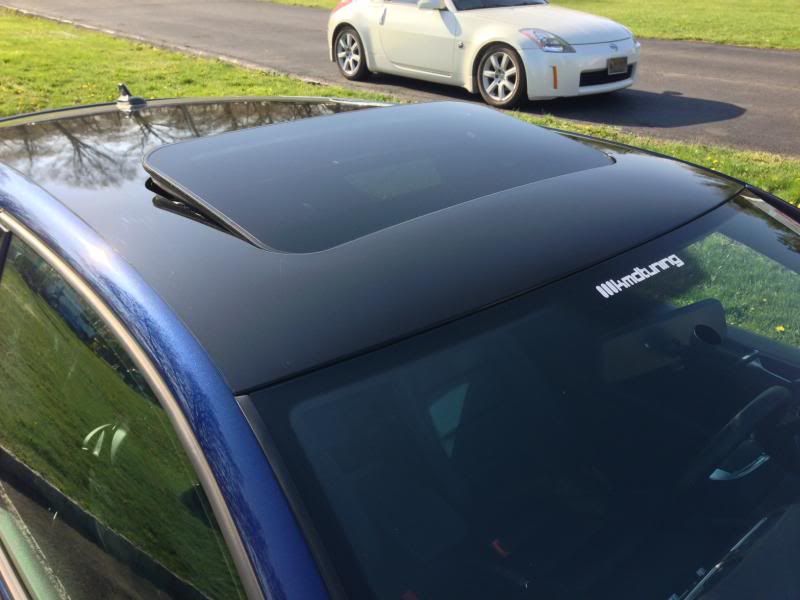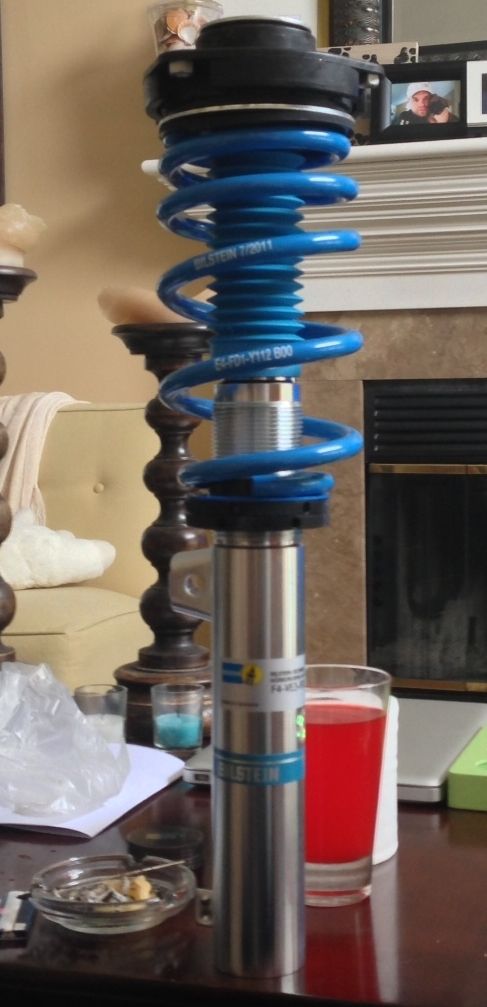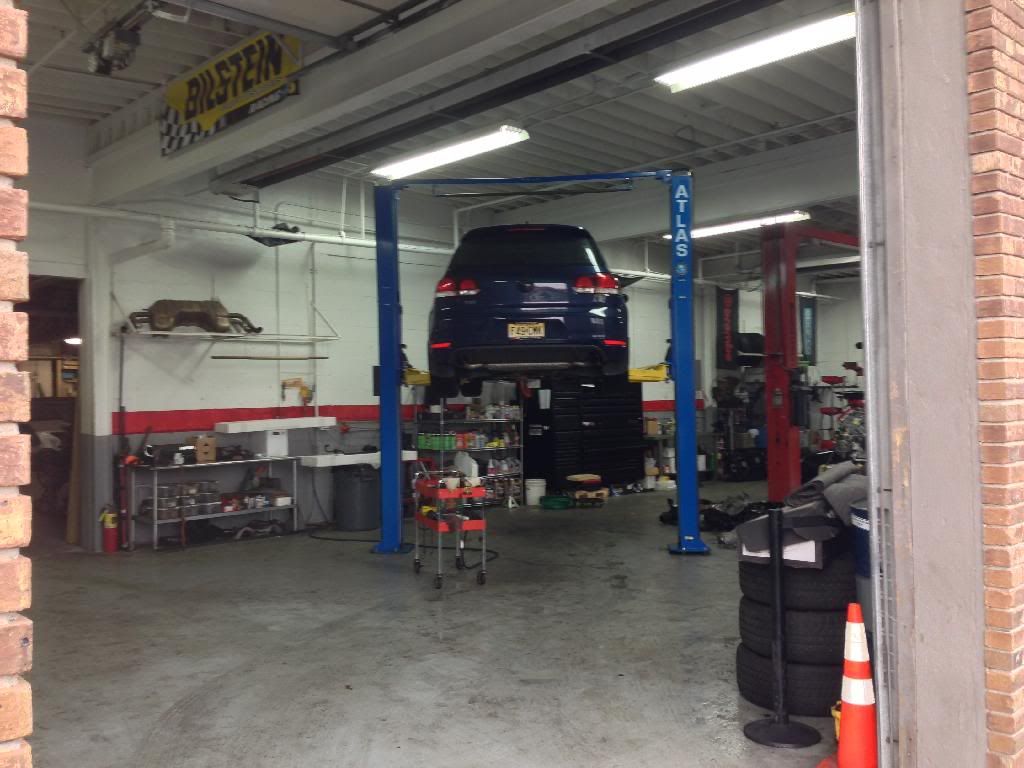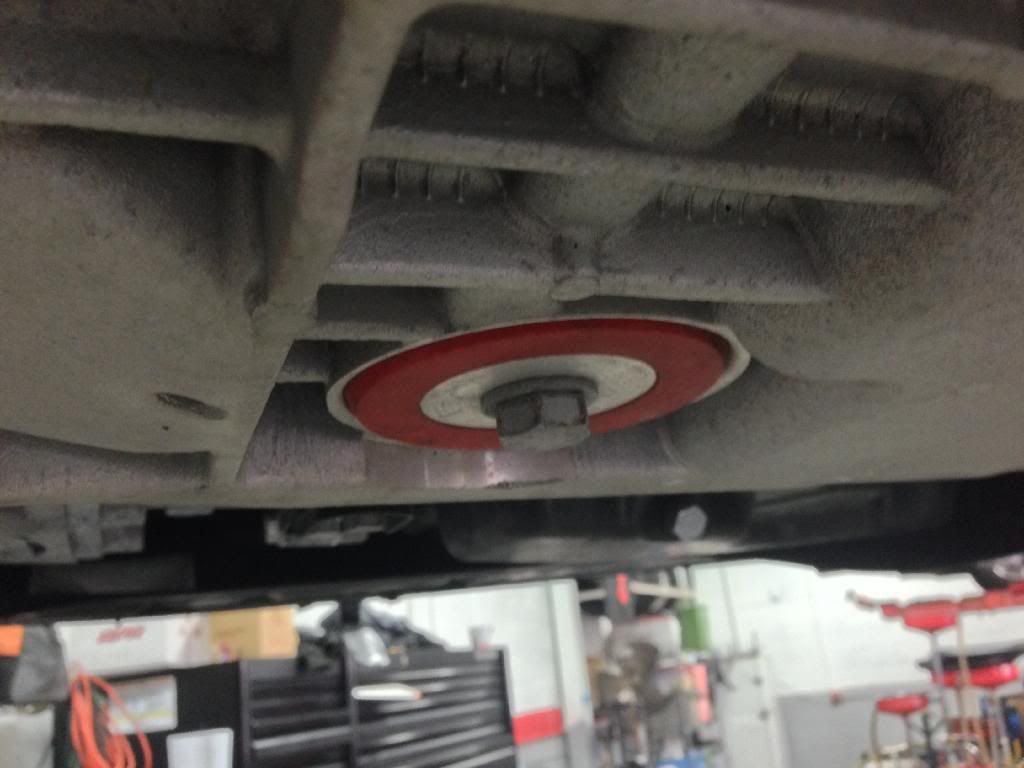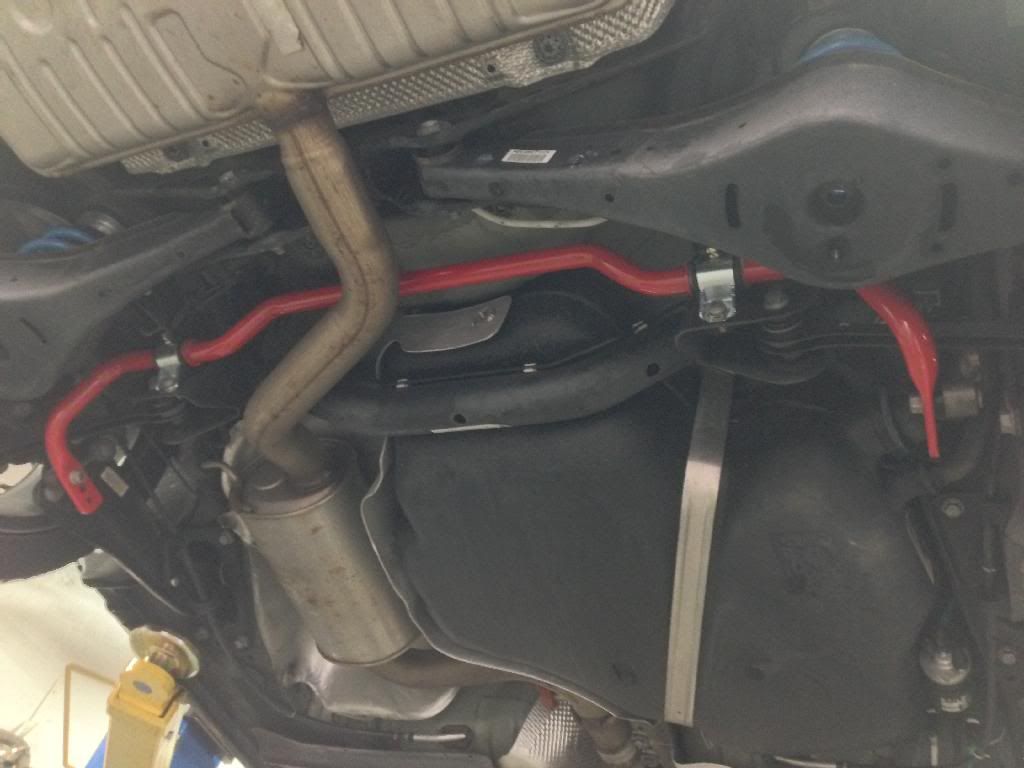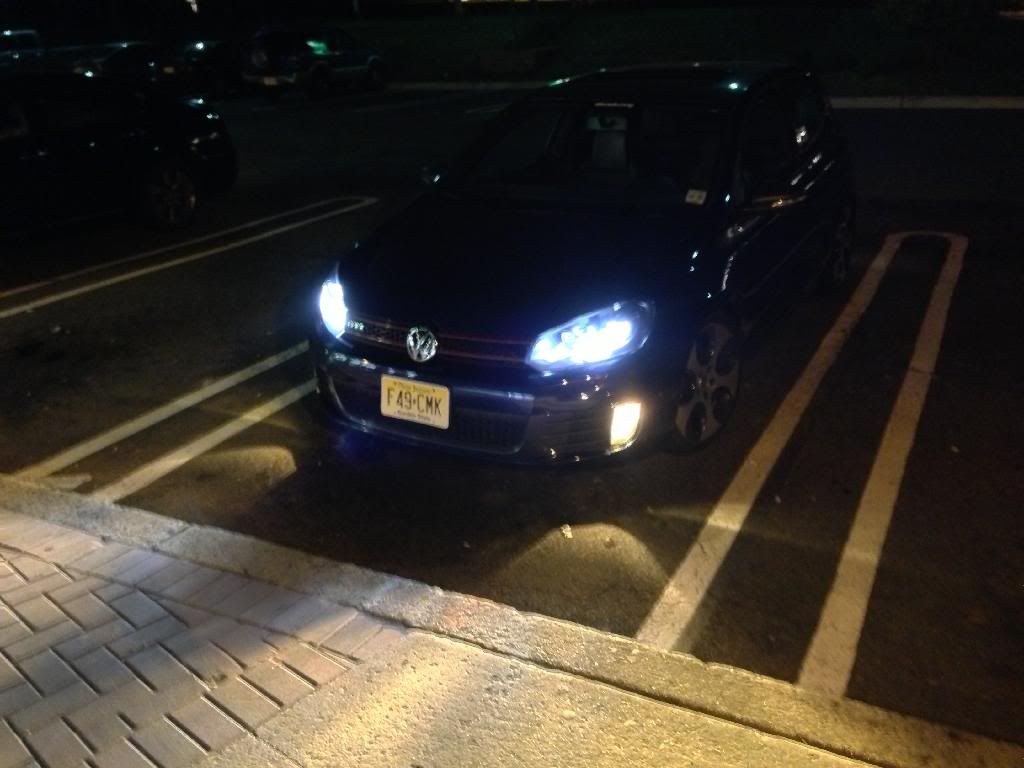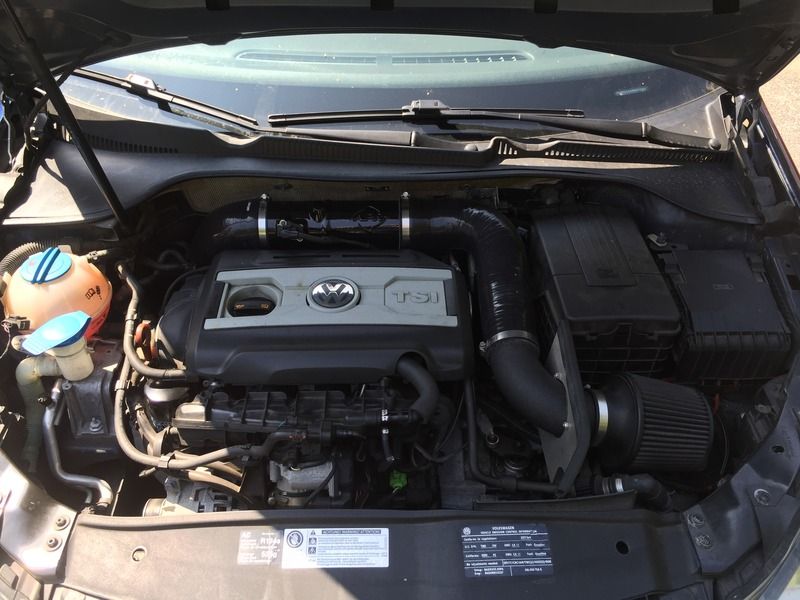 Trying to show the PTP firewall blanket but it pretty well blocked by the stage 3 turbo inlet piping but it is a very nice piece for $150. The early mk6's have a cheap shitty piece of insulation on the firewall that deteriorates and starts to hang down. It drove me crazy so this was the perfect replacement.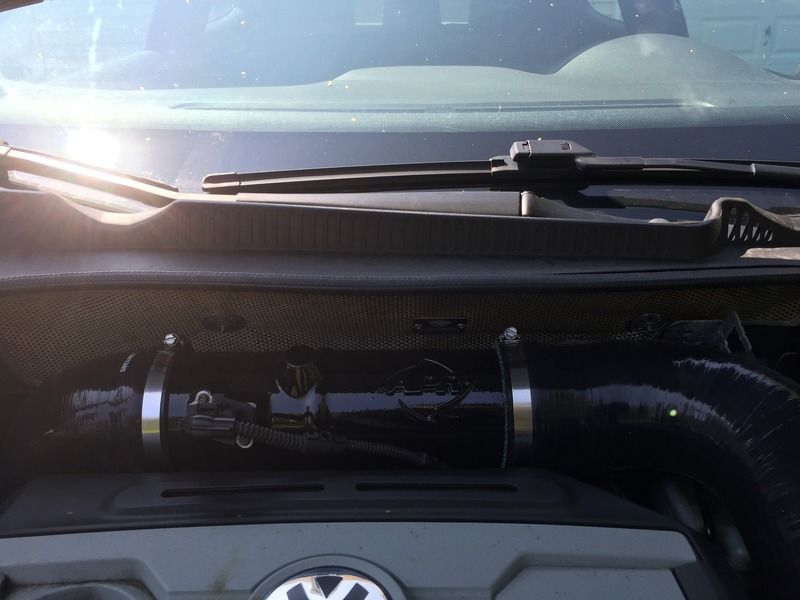 __________________________________________________ _____________
Future Plans:
My plans are to eventually to swap turbos. So with that in mind I have been building other aspects of the car in prep for more power. I keep going back and forth with what I want to do. A few months ago I was talking with GIAC about supplying a tune for a gtx28 or 30 turbo. They kept yessing me so when I decided I was ready and about to order all my hardware I asked them what the process was going to be. Can I just go to any of their dealers to get a simple flash? or will you have me go to a certain dealer with a dyno and they would need my car for a few days? What size MAF will I need for the tune? What if any fueling upgrades will I need for the tune? How much $? Once I asked those questions I got no response so that obviously stopped me from buying all the hardware since I no longer had a tune lined up. I have spoke to Unitronic and they said no problem about tuning the gtx28 or 30 but I don't really want to use them. Even though U20t's car seems to be on point I just don't know if I fully trust them. Maybe my mind will change when I see U20t's car in person and go for a ride. I also spoke to Bronson and he seems like a really smart guy but my worry there is what if any warranty does he offer? And if he does have a warranty does he have any capital to back it up? If I spend the 8 g's or so for the engine build I load his software up and go and throw a rod through the block is he going to back it up if the tune was all fucked up? Then there is APR with 2 rock solid kits but it is what it is once you have their hardware kit and software you are locked more or less. At least with another tuner and a T3 manifold you have other turbo options if you want to change it up. However the more I think about it the more I start to realize APR may be the best choice. The ultimate end goal with this car is to have a badass daily driver. Something that is comfortable, fast, quick and will handle well.
Thinking on the smaller turbo side of things I like the quick spool of a smaller turbo and having a power full mid range is what I think would be the most fun...at least where I live now in Jersey. A ko4 running WMI and 93 octane on a race gas file would give me that powerful mid range with quick spool. I think ultimately I would like to do a turbo in between the ko4 and gtx30 tune it for 93 + WMI run that for awhile and this way down the road if I want more power or move I can go buy a bigger turbo, injectors and a get it tuned. We are giving serious thought about moving to southwest Florida where the roads are all highway and would much rather have more top end power.
__________________________________________________ _____________
Special Thanks:
KMD Tuning
APTuning
The VW Community
Special Fuck You's:
Redline Speed Worx
SPM
*I will update this thread periodically and as I do more work on the car...