Contrary to my post above - i have been getting issues after i fitted the DV+.
Same day i fitted it i had a misfire EML on a hard 2nd gear WOT pull. I put it down to the sparks which i have been experimenting with the last few days (more on that later).
So i put the BKR7EIX back in, gapped them to 0.65-0.7mm and thought all was good.
However day later i had another misfire EML on hard 3rd gear pull.....its on random cylinders - first 1 &3 and now 2. So its nothing specific to a particular cylinder.
I have noticed the misfire occurs if i go WOT after not long starting the car up (say a few minutes of driving) - but it is up to coolant temperature from a previous non WOT run. It doesn't do it after a good bit of driving or if i give it a run but not WOT at first and then start doing some tearing around with full throttle.
Prior to the DV+ install i had no misfires.
I have a theory on why the DV+ appears to be causing misfires:
The DV+, with their piston spring to regulate boost pressure is putting more boost in momentarily when doing full throttle than is expected by the ECU map. This exactly how it improves throttle response, by not venting all the boost pressure when you go off a throttle or in this case kickdown gear change down when i stamp my foot to the floor.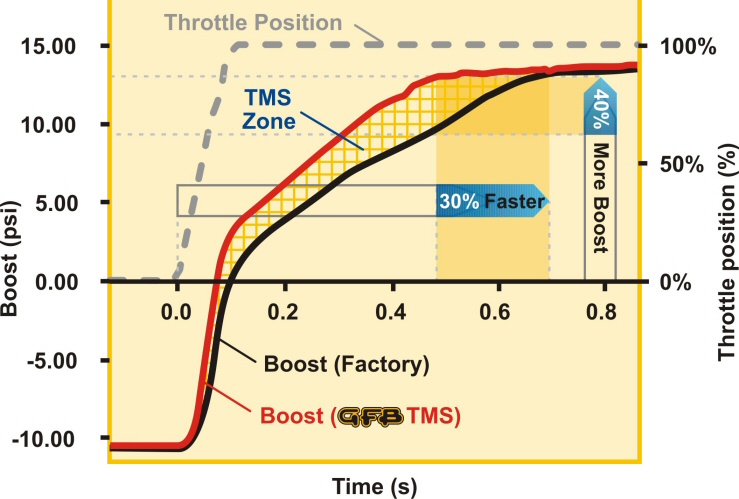 GFB DV+ boost chart shows this is what happens when you do a full throttle request, for 0.5 seconds it ends up providing more boost than you would have with the factory DV. Now the ECU is only putting in X amount of fuel during this period - so for this time it will run leaner. This is why some people with the DV+ have had system too lean soft codes.
So i'm at full WOT, max boost request and the engine is running momentarily leaner for a short period - and bang i get misfires right when this happens, i.e. the 0.5 seconds after a kick down gear change. With a DSG, a gear down shift is a momentary release of throttle (close throttle body plate) and then reopen...and also a open DV valve at same time. Ecu is expecting a boost pressure drop and is simply not getting it due to the DV+ gradual boost release mechanism.
These engines at the best of times are close to misfiring - which is simply down to having high boost pressures at WOT, on sparks that are likely to carbon foul due to low cylinder temperatures during normal driving, with lean mixtures and of course stock gap sizes being a bit too big on the sparks.
Now add in a stage 1 (closer to stage 2 for the new APR map), pushing 23psi boost pressures, and a scenario where the electrode tip is not up to temperature and all it takes is a boost pressure spike on a lean mixture and hey presto - misfires!
For those that don't know the following conditions make it harder for a spark plug to fire - i.e. misfire:
-Higher air density (boost pressure)
-Increased gap size
-Lower electrode temperature
-Leaner air fuel mixture
-Higher humidity
-Lower discharge voltage (underrated or weak coil pack)
Forgot to mention it was also a bit wet, i.e. high humidity.
I have a scenario which meets most of those conditions when i am getting a misfire.
I have yet to pull the DV+ out to prove that it is that, and will do so shortly to prove the theory.
Long term solution should be to run the DV+ without the extra spring - making it operate like a OEM DV, but with ability to hold boost pressure better without leaking. Pity as will loose the throttle response gain - altho it was small.
Alternatively i am looking to get Audi R8 coilpacks at some point with an adapter plate for the 1.4TSI - they have a much higher discharge voltage which will alleviate all the above conditions causing a misfire.