I don't even have to give a review, the pictures explain.
But seriously, these lights look amazing. I was at waterfest on Sunday, started browsing while my car was getting the new k04 3.1 and the dsg tune. I feel I may be growing out of the yellow fogs so I started looking at the hid booths. Something didn't feel right so I said I'd come back.... I came across DeAutoKey. I purchased the interior LEDs about 6-7 months ago and they are the best. I always get complements on the little things and they always bring up conversation. I talked to the vendor and he told me Hyde has them on his gti. So I'm looking for him and i see a gti that looks like a 2.5 golf. I ask if he could show me. He's a cool guy, never got to say thanks btw Hyde16.
So I bought them. I like these better then the crappy HID kits people sell. 9/10 times they are cheaply made. Id also like to apologize for anyone who gets stuck in front of me.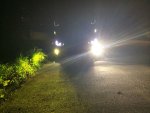 Sent from my iPhone using TapatalkxxaZ